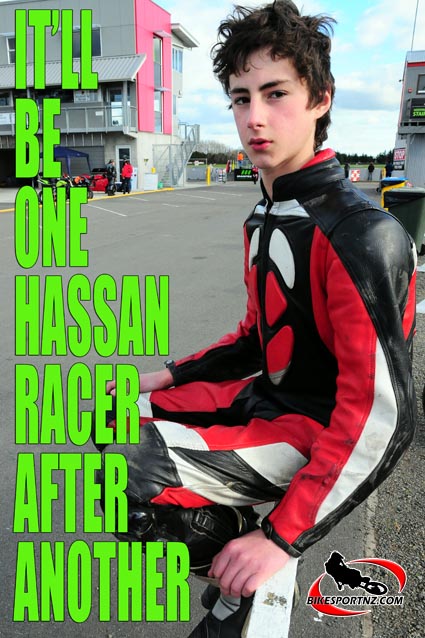 He's young and very fresh-faced, but don't be fooled by appearances, Auckland's Aaron Hassan is very serious indeed.
The 13-year-old year eight pupil at Ponsonby Intermediate has won support from Kawasaki New Zealand as he builds up to his debut season on the national road-racing scene.
If young Hassan is even half as good as his elder brother, Jaden Hassan, then investing in Aaron could be a very wise decision indeed.
Jaden Hassan has been a regular front-runner at national level in the ultra-competitive 600cc class, only this season he could be fighting with his little brother for the focus of the limelight.
Aaron Hassan turned 13 on August 14 and, exactly one week later, he made his road-racing debut, at round four of the Victoria Motorcycle Club's Actrix Winter Series at Manfeild.
Aaron Hassan finished 6-5-5 in his three 150 streetstock class outings on Sunday, a very impressive performance for a young man on debut against some very talented opposition.
Hassan rode a very second-hand Kawasaki KR150 at Manfeild on Sunday – a bike he said that's "just to get me started" – and is determined to impress even more in the 150 streetstock class at the two remaining Actrix Winter Series rounds that now follow, at Manfeild in September and Taupo in October.
However, he won't stay in the streetstock class for much long after that — he is looking forward to collecting a new Kawasaki EX250 from Auckland dealer Experience Kawasaki in the next few days.
He will then be getting ready to tackle the Prolite 250c class at the upcoming nationals.
"I have been to the superbike school at Hampton Downs (near Meremere), where I have learned all about body position on the bike and picking race lines, and I think I'm going pretty fast now.
"It's way too early to say whether I see a future for myself in the superbike world championships of MotoGP … I'm just looking at what might happen tomorrow and the day after that."
One thing is certain, Aaron Hassan has the pedigree and the support from Kawasaki New Zealand and those factors alone put him in prime position to succeed in the sport.
© Words and photo by Andy McGechan, www.BikesportNZ.com