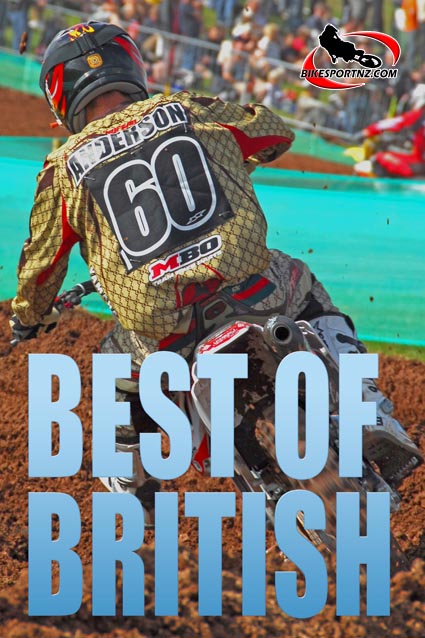 There is still one round to go but already the MX1, MX2 and MXY2 champions have been decided in this year's British Motocross Championships.
Brad Anderson (Honda), Arnaud Tonus (Yamaha) and Ryan Houghton (KTM) were all crowned champions after an epic days racing at the superb Duns circuit in the Scottish Borders.
Also in the thick of the action were Kiwi Dirt Bike Gym Suzuki team-mates Kieran Scheele and John Phillips, who just days later were named as two-thirds of New Zealand's Motocross of Nations team to France.
Hawke's Bay's Scheele got into the groove quickly and laid down his best qualifying session of the season to finish with the 13th fastest lap time heading into the days MX1 motos.
Scheele rode strongly and battled hard all day with impressive lap times, although he managed only 19th in moto one.
Unfortunately a blatant take-out on the up-ramp of a large table top sent him spectacularly to the ground in the day's second moto. He surprised many that he managed to get up from the crash and although it resulted in a non finish for the race he showed true determination by lining up and finishing well in the day's final moto, although out of the points.
"I am happy with my qualifying but my racing could have gone better if a bit of luck would come my way," said Scheele.
He is now 32nd overall in the series standings.
Rotorua's Phillips finished 15-12-8 in his three MX2 races at Duns, good enough for 11th overall on the day. He is now ranked 19th in the series standings.
"I started the day riding really tight and I struggled getting into a flow, then in the second race I found a couple better lines and started to flow and have fun," said Phillips afterwards.
"My fitness was really good and was finishing the races really strong."
He also made comment about his selection for the MXoN team.
"Motorcycling New Zealand has finally named the Team for the Motocross of Nations. It's not the best team that they can send, but apparently due to lack of funds it is the best they can come up with, either way I still feel as though I deserve the MX2 ride.
"I'm still happy that I have been selected as it has been one of my goals this year to make the team. I am also still excited to represent my country. This is a huge event and I will chuck everything at it."
Meanwhile, the maximum points haul by Anderson and Tonus may have looked easy but the truth is they had to fight for their hat-trick of wins, whilst Houghton had a heart-stopping moment when his KTM overheated in the first MXY2 moto and he was forced to enter the work area, but went back out to salvage two points.
He came strong in the final moto however when half way through the race being positioned third would have not been enough to secure the championship. However, his main contenders, Adam Sterry (Honda) and Jordan Divall (Honda) could not maintain the pace for the full race distance and in the end Houghton romped home for a win and the title.
In the MX1 class, Anderson had three wins whilst his main challenger, Kristian Whatley (Samsung Yamaha) recorded 3-2-2 to take second ahead of Billy MacKenzie (LPE Kawasaki) whose bad starts let him down with 2-3-3 finishes.
Tonus also suffered indifferent starts but he had the speed to carve through the field in all three motos to record a maximum to also lift the title with one round remaining. Jake Nicholls (HM Plant Red Bull KTM) had to fight hard for his second place overall with 5-2-4 results whilst Neville Bradshaw (Maunders Racing Honda) scored his best result of the season to take the lower step on the podium posting 8-3-3 moto results.
© Photo by Andy McGechan, www.BikesportNZ.com