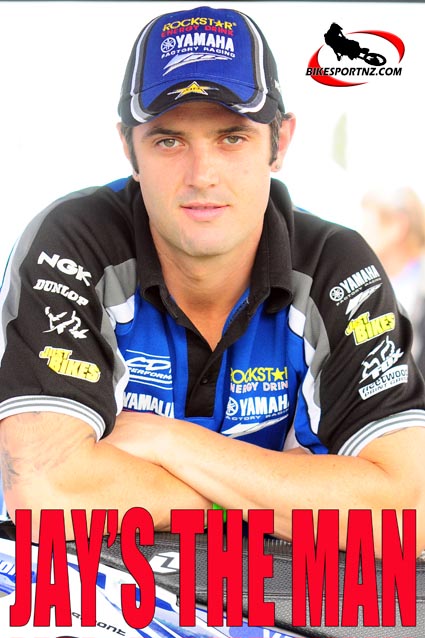 They have certainly been sharing around the wins in Australia this season.
Defending champion Jay Marmont (Yamaha) won the weekend's seventh round of nine in this year's Australian Motocross Championships at Wodonga, Victoria, the fifth different individual to win a round in the open class this season.
Marmont also won the previous round at Coonabarabran, NSW, although he is still only fourth overall in the standings.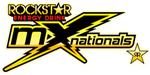 Championship leader Dean Ferris (Kawasaki) managed only fifth overall at Wodonga but he keeps his hold on the points lead, while Kiwi Yamaha ace Josh Coppins produced another solid performance at the weekend – finishing 4-1-6-2 – to move up from third to second position in the championship chase, now just 14 points behind Ferris.
With two rounds to go (eight races, and 200 points still available), the championship could go right down to the wire.
Wodonga was a great day all around for the Kiwi contingent.
New Zealand MX1 champion Cody Cooper (Suzuki) finished the day runner-up to Marmont, his ninth placing in the day's final open class race perhaps costing him the overall – and it would have been his second overall round win after he had also dominated a muddy round five at Toowoomba.
Cooper had been the lead rider on the day until that fateful final outing, his 2-2-1 results earlier in the afternoon setting him up for a top-of-the-podium result.
Unfortunately, Cooper remains stuck in eighth place overall for the championship, although he is much better off in moving up from 60 points behind seventh-ranked Lawson Bopping (Suzuki) to trail him now by just 31 points.
Another former New Zealand champion, Rotorua's Michael Phillips (Honda), finished the day fourth overall and, although he remains sixth in the championship rankings, he is now just 21 points behind fifth-ranked Honda team-mate Cheyne Boyd.
It is interesting to note that, in terms of actual race wins, the man now third in the standings, Scotsman Billy Mackenzie (Kawasaki), has won more motos than any other rider, taking the chequered flag eight times out of 28 races thus far.
Next best in the "race wins" stats is Cooper, with six wins to his credit, and it is only the points he lost by crashing out of round two and skipping round three with injury, that keeps him out of the title chase.
Yamaha pair Marmont and Coppins have four wins apiece, while the championship leader Ferris has actually only won three races in the entire campaign but this goes to illustrate the importance of consistency because he has finished top 10 in every single race this season.
Other moto winners are Bopping (1), Daniel Reardon (1) and Ryan Marmont (1).
In the Pro Lites class, KTM's Matt Moss continues to lead the way, while yet another Kiwi, Christchurch's Justin McDonald (Honda), continues to push for a top five finish.
McDonald finished sixth overall in the class at Wodonga, moving up from seventh to sixth in the championship, now just 41 points short of fifth-ranked Brenden Harrison.
© Words and photo by Andy McGechan, www.BikesportNZ.com
RESULTS: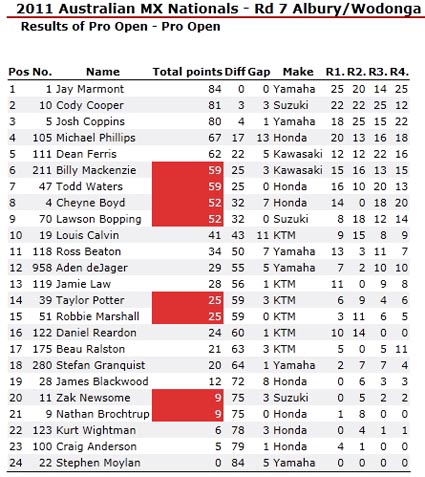 Overall Standings – Pro Open
1. Dean Ferris 523
2. Josh Coppins 509
3. Billy Mackenzie 507
4. Jay Marmont 491
5. Cheyne Boyd 436
6. Michael Phillips 415
7. Lawson Bopping 375
8. Cody Cooper 344
9. Louis Calvin 268
10. Daniel Reardon 226
Overall Standings- Pro Lites
1. Matt Moss 503
2. Kirk Gibbs 445
3. Phil Nicoletti 417
4. Daniel McCoy 410
5. Brenden Harrison 407
6. Justin McDonald 366
7. Kade Mosig 361
8. Josh Cachia 358
9. Cody Mackie 350
10. Luke Styke 324
Round Results- Under 19's
1. Errol Willis (Raceline Pirelli Suzuki) 92
2. Sam Martin (Byrners Suzuki) 83
3. Shaun Redhead (GYTR Rockstar Yamaha) 78
4. Jake Emanuelli (Yamaha Australia/Hart and Huntington) 63
5. Kyle McKeddie (Mornington Kawasaki) 59
6. Luke Arbon (GYTR Rockstar Yamaha) 54
7. Jarrad Davis (Yamaha) 48
8. Dylan Peterson (Team 07 Axis Motorsports Honda) 47
9. Dan Banks (Eco-Pest Control KTM) 44
10. Jay Wilson (Coastal KTM) 41
Overall Standings – Under 19's
1. Errol Willis 556
2. Luke Arbon 480
3. Shaun Redhead 444
4. Dylan Peterson 385
5. Jake Emanuelli 359
6. Kyle McKeddie 345
7. Jay Wilson 326
8. Sam Martin 243
9. Kale Makeham 235
10. Dan Banks 226