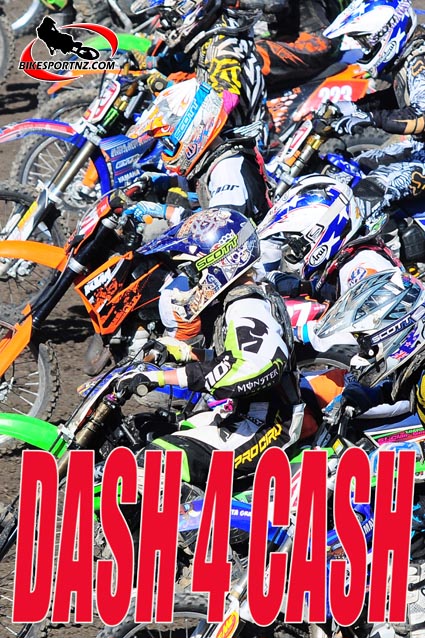 Are you ready for the Fieldpower Dash For Cash?
Get out a pen and mark Saturday, July 16, on your calendars for this $3000 winner-takes-all event.
Hosted by the Whangarei Motorcycle Club, in conjunction with the NAC Insurance, International Rally of Whangarei, Super Special Stage, Pohe Island, Riverside Drive, Whangarei, rider entry is $30 per class and limited to first 40 riders in each class.
One entry per class.
Sign On 7.30am
Riders briefing 7.45am
Practice start 8.00am
Entries must be received by July 8 … that's this Friday. No late entries will be accepted.
In addition to the $3000 winner-takes-all prize, there is prize money for winners of all class races.
Races are sprint style gate start approx 400m straight into a flat 180 turn followed by table top jump and dash to finish. Heats 1 and 2 will be 4 riders per start with 1st and 2nd moving onto next heat.  Heat 3 onwards will be two riders per start with winner moving into next heat. Final is the winners of each class racing for $3000. Whangarei Motorcycle Club have the right to change the format as it sees fit on the actual day of racing.
CLASSES
Race 1:      85cc
Race 2:      125cc 2/stroke
Race 3:      250cc 4/stroke
Race 4:      Quads under 250cc 2 stroke/under 400cc 4 stroke
Race 5:      250cc 2 stroke – 450cc 4/stroke
Race 6:      500cc open
Race 7:      Quads over 250cc 2 stroke/over 400cc 4 stroke
Champion of Champion: Winners of class Race off for $3000
Helmet, boots, gloves, chest protector, long sleeve shirts and pants are mandatory for all riders.
Gate pass $10. All entries will receive a free gate pass. Motorcycle Sprints will stop while rally special stages are being run.
For any queries, contact Ray Wedge on 027 5736633
Go to www.freewebs.com/whangarei for your entry form.