BRITISH MASTERS ROUND FIVE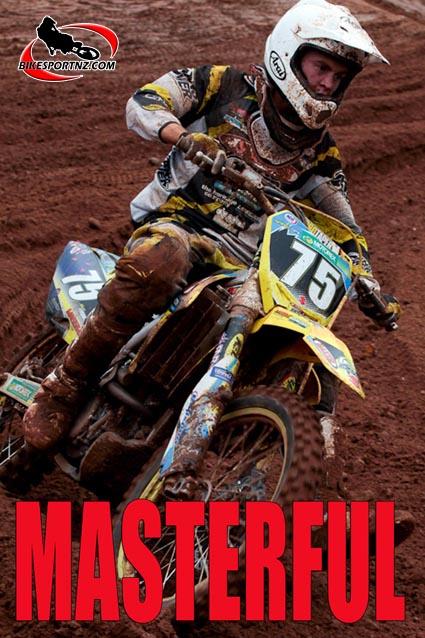 It was a great weekend in England for the Kiwi contingent racing at round five of the British Masters Motocross Championships at Milton Malsor.
The day's racing in the MX1 class was won by former GP star Brad Anderson, who finished 2-1 in his two outings, while Kristian Whatley finished the day runner-up with a 1-2 scoreline.
Further back in the field, two of the Kiwi DBG Race Team riders, Masterton's Bjarne Fredericksen and Napier's Kieran Scheele, were battling their way to 12th and 20th overall for the day.
Fredericksen finished 15-14 and Scheele went 0-10.
In the MX2 category, Neville Bradshaw and Bryan Mackenzie were battling for the lead, Bradshaw finishing 1-2 to take the overall, while Mackenzie placed 3-3 to settle for the runner-up spot.
Kiwi DBG Race Team rider John Phillips, of Rotorua, holeshot one race on his way to scoring impressive 7-5 result, good enough for fourth overall on the day, just behind Shane Carlos.
Mangakino's Kayne Lamont (pictured above) continues to develop with the Maxxis Apico Suzuki Race Team and he managed 16-8 results to end the day eighth overall.
Because the course runs right alongside the M1 motorway, dust is virtually forbidden, so extensive watering was carried out on the track.
Lamont contacted BikesportNZ.com to tell us about how this affected the racing and about his day personally:
"The track was soaking wet in the morning and had been groomed in most areas as there was racing the day before.
"It was narrow and very hard to pass on which got worse as only a few lines formed in the very wet and muddy conditions. The terrain is very hard pack but very sticky and heavy when watered.  It is a flat track with plenty of jumps and rollers; a bigger more open Supercross track," said Lamont.
In practice and qualifying, the MX2 class was first up, so we had to deal with the mud and puddles.  I managed to get an okay time, which gave me 15th place before going down and bending my handlebars.
"In race one I got 15th gate pick which put me near the inside of the start which unfortunately was still wet and muddy on this side of the gate.  I got a terrible start and was around the first corner in about 20th position.
"I worked hard to make my way through the field into 12th position and was behind two riders that were slower than me but I just couldn't seem to get past.  I few laps later I fell over a rut and dropped back to 16th position where I finished.
"In race two I got a good start, was third around the corner but after a couple of mistakes was quickly over taken by a couple of riders.  I remained in sixth place for a few laps until a couple of the fast guys finally managed to over take me pushing me back into eighth position.  I managed to catch up to another two riders but couldn't make a pass on them and finished in that position.
"I didn't have the best weekend but it was okay," he explained.
"There were a few positives to take away from this meeting but I know I have way more to give when we get our set up right.  We are doing some testing this week to try some different suspension and bars, etc. so I am looking forward to that.  I have a two week break now which will give me time to put in some good training and testing and settle in a bit more."
In terms of the championship, Lamont is a little bit out of the picture, having been forced to miss the opening few rounds because of visa application snarl-ups. However, even with just two rounds to his credit, Lamont is placed 25th overall in the championship standings.
Phillips, meanwhile, is fifth overall after five rounds.
In the MX1 class, Fredericksen and Scheele are positioned 18th and 22nd overall respectively.
© Words by Andy McGechan, www.BikesportNZ.com
© Photo by Stefan Paetow, eons netmedia
The Kiwi DBG Team sent us this report: Team NZ DBG