WHIBLEY STRETCHES SERIES LEAD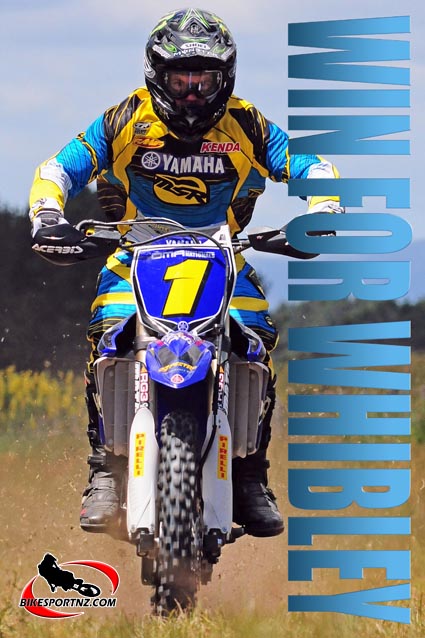 It was another race and another win for Kiwi Paul Whibley in the United States at the weekend.
Racing at round four of the Off-road Motorcycle and ATV (OMA) series in Rio Grande, Ohio, defending champion Whibley (Yamaha YZ450F) made short work of his equally talented rivals as he took over the lead soon after the start of the two-hour race.
He fought briefly with American ace Jimmy Jarrett and his own Yamaha team-mate Jordan Ashburn, but then managed to break away to take the win, leading a Yamaha 1-2 to the top of the podium.
"This event is one of the more enjoyable tracks on the circuit, with loamy fields and flowing trails through the woods," said the former forestry worker from Pahiatua.
Some steep hill climbs offered a huge challenge to the riders, as did some of the slick sections of trail after the quad bike racers had held their event on the course the day before.
"Off the start line my Yamaha fired up fast. I took the holeshot and led the race until Jimmy Jarrett (Honda) snuck past when I lost the trail momentarily in the fresh single track.
"I latched onto Jimmy's rear wheel and looked for an opportunity to re-take the position. On the second lap I moved into the lead and planned to stay there."
Whibley's Yamaha team-mate, Ashburn, was close in third position.
"I managed to put a couple seconds on Jimmy as the race progressed and as I learned the track and felt more comfortable with the pace I was running. By the fuel stop I had enough of a gap that I couldn't see second. I continued to push hard as anything can happen in a two-hour race.
"With the temperatures pushing 90f (more than 30 degrees Celsius), the racing was demanding and, as the race wore down, so did the competition. I was able to extend my lead to a comfortable margin in the last couple of laps and was able to put it on cruise mode to ensure the win was mine.
"After the race I learned that Jimmy Jarrett had crashed and broken his collarbone, allowing Jordan (Ashburn) to move into second."
Geico Honda rider Scott Watkins took the final podium spot.
LEADING RESULTS:
1. Paul Whibley
2. Jordan Ashburn
3. Scott Watkins
4. Adam Bonneur
5. Shane Klimek
6. Levi Clemens
7. Derek Spangler
8. Marty Michels
9. Jared Whitaker
10. Alec Bill.
Series standings after four rounds:
1. Whibley 115
2. Ashburn 88
3. Jimmy Jarrett 66.
© Words and photo by Andy McGechan, www.BikesportNZ.com