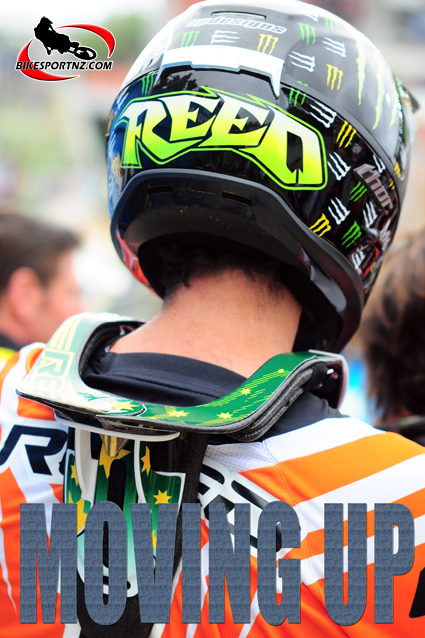 The strategy of Australian Chad Reed at the weekend was simple: Be reckless, but don't crash.
The TwoTwo Motorsports Honda rider powered down the big hill at Hangtown's round one of the United States Motocross Championships like no other rider in the premier 450cc class.
He held off a spirited charge in the second moto from defending 450cc class champion Ryan Dungey to win the overall title at the 43rd running of the outdoor national race.
"I just take that downhill straight and go, 'Banzai,' " said Reed, who started his own team for the 2011 season. Reed passed Dungey (Rockstar/Makita/Suzuki) in the first corner on Lap 9 with about 12 minutes left of the 30 minutes-plus-two-laps second moto.
He extended that lead to three seconds throughout the next five laps, but Dungey cut it to 0.7 seconds with two laps remaining. Reed said he felt Dungey's charge but wasn't about to let the lead slip away with the chequered flag in sight.
"Getting close is one thing," Reed said, "but passing me is another."
Reed and Dungey switched finishes in the first moto, but because the second moto is weighted more than the first, Reed captured the overall title. But each takes 47 championship points into the second round next weekend in Wortham, Texas.
Monster Energy Kawasaki's Ryan Villopoto took third, followed by GEICO Honda's Kevin Windham and Reed's countryman, Brett Metcalfe, of the Rockstar/Makita/Suzuki team.
In the 250cc class, Monster Energy/Pro Circuit Kawasaki's Blake Baggett passed team-mate Tyla Rattray with four laps left and bested the field by 13 seconds to claim his first outdoors national title.
"I went down to the outside through the 'whoops' section when I noticed that (Rattray) went through the rough section," said the 19-year-old Baggett. "I saw that line earlier and just waited for the chance to take it."
Team-mate Dean Wilson was third, and last year's 250cc champ, Eli Tomac (GEICO Powersports Honda), was fourth.
With Wilson's finish, the Pro Circuit team swept the podium and then showered team owner Mitch Payton with champagne.
In the women's motocross, Jessica Patterson might run away with the title again in 2011. The DNA Shred Stix Factory Yamaha rider beat her closest competitor, Ashley Fiolek, by 16 seconds in the first moto and 12 seconds in the second moto to complete a win to start the women's eight-round series.
Lucas Oil AMA Pro Motocross Championship
Rockstar Energy Hangtown National
Prairie City SVRA – Rancho Cordova, Calif.
May 21, 2011
Round 1 of 12
450 Class (Moto Finish)
Chad Reed, Australia, Honda (2-1)
Ryan Dungey, Belle Plaine, Minn., Suzuki (1-2)
Ryan Villopoto, Poulsbo, Wash., Kawasaki (3-3)
Kevin Windham, Centreville, Miss., Honda (6-4)
Brett Metcalfe, Australia, Honda (5-5)
Davi Millsaps, Murrieta, Calif., Honda (4-7)
Tommy Hahn, Decatur, Texas, Yamaha (8-8)
Christophe Pourcel, France, Yamaha (7-11)
Ricky Dietrich, Menifee, Calif., Yamaha (11-9)
Christian Craig, Hemet, Calif., Honda (14-10)
450 Class Championship Standings
Chad Reed, Australia, Honda – 47
Ryan Dungey, Belle Plaine, Minn., Suzuki – 47
Ryan Villopoto, Poulsbo, Wash., Kawasaki – 40
Kevin Windham, Centreville, Miss., Honda – 33
Brett Metcalfe, Australia, Honda – 32
Davi Millsaps, Murrieta, Calif., Honda – 32
Tommy Hahn, Decatur, Texas, Yamaha – 26
Christophe Pourcel, France, Yamaha – 24
Ricky Dietrich, Menifee, Calif., Yamaha – 22
Christian Craig, Hemet, Calif., Honda – 18
Michael Byrne, Dade City, Fla., Suzuki – 18
250 Class (Moto Finish)
Blake Baggett, Grand Terrace, Calif., Kawasaki (2-1)
Dean Wilson, Scotland, Kawasaki (1-3)
Tyla Rattray, South Africa, Kawasaki (5-2)
Eli Tomac, Cortez, Colo., Honda (3-4)
Marvin Musquin, France, KTM (4-6)
Gareth Swanepoel, South Africa, Yamaha (9-5)
Kyle Cunningham, Aledo, Texas, Yamaha (8-8)
Darryn Durham, Butler, Pa., Honda (10-9)
Broc Tickle, Holly, Mich., Yamaha (11-5)
Cole Seely, Newbury Park, Calif., Honda (7-13)
250 Class Championship Standings
Blake Baggett, Grand Terrace, Calif., Kawasaki – 47
Dean Wilson, Scotland, Kawasaki – 45
Tyla Rattray, South Africa, Kawasaki – 38
Eli Tomac, Cortez, Colo., Honda – 38
Marvin Musquin, France, KTM – 33
Gareth Swanepoel, South Africa, Yamaha – 28
Kyle Cunningham, Aledo, Texas, Yamaha – 26
Darryn Durham, Butler, Pa., Honda – 23
Broc Tickle, Holly, Mich., Yamaha – 22
Cole Seely, Newbury Park, Calif., Honda – 22
WMX Class (Moto Finish)
Jessica Patterson, Tallahassee, Fla., Yamaha (1-1)
Ashley Fiolek, St. Augustine, Fla., Honda (2-2)
Steffi Laier, Germany, KTM (3-3)
Tarah Gieger, Puerto Rico., Honda (4-7)
Jacqueline Strong, Sedona, Ariz., KTM (7-5)
Tatum Sik, Temecula, Calif., Yamaha (8-6)
Mariana Balbi, Brazil, Yamaha (13-4)
Kasie Creson, Byron, Calif., Honda (10-8)
Sayaka Kaneshiro, Japan, Suzuki (9-10)
Elizabeth Bash, Riverside, Calif., KTM (14-9)
WMX Class Standings
Jessica Patterson, Tallahassee, Fla., Yamaha – 50
Ashley Fiolek, St. Augustine, Fla., Honda – 44
Steffi Laier, Germany, KTM – 40
Tarah Gieger, Puerto Rico., Honda – 32
Jacqueline Strong, Sedona, Ariz., KTM – 30
Tatum Sik, Temecula, Calif., Yamaha – 28
Mariana Balbi, Brazil, Yamaha – 26
Kasie Creson, Byron, Calif., Honda – 24
Sayaka Kaneshiro, Japan, Suzuki – 23
Elizabeth Bash, Riverside, Calif., KTM – 19