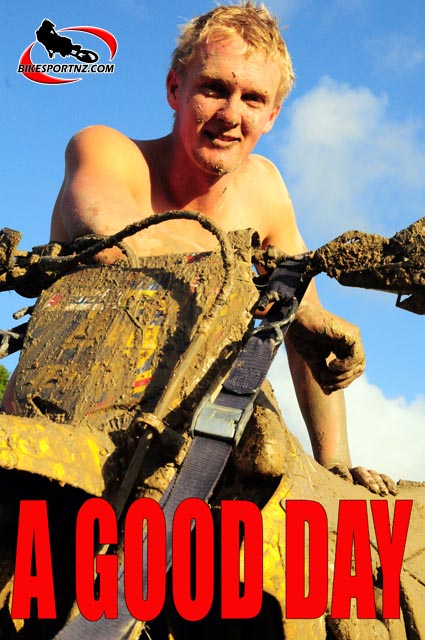 Napier's John O'Dea has been out of action for most of the season but he made an immediate impact when he did show up to race at the weekend's fourth and final round of the Suzuki Cross-country Championships in Taranaki.
O'Dea (Suzuki RM-Z450) finished second overall on Saturday, battling through atrocious conditions that claimed many riders, with one steep hill in particular causing huge bottlenecks as bike and bodies slid backwards down through the slippery mud.
"I dislocated my shoulder in January … and that was nothing to do with motorcycles. I was bull riding at a rodeo," said the 20-year-old O'Dea.
"That was one week before the first round of this national cross-country championships series. This race on Saturday was the first round I have been ready to go.
"I got a good start but then made life difficult for myself by sliding off about 200 metres later and I ended up right near the back of the field.
"I hammered it hard after that and made up a lot of ground."
In all, O'Dea surged past nearly 70 riders to achieve his eventual runner-up finish. The son of the man who owns the farm, Bell Block's Robert Newton (Honda CRF450), won the race.
"I was riding most of the race without front brakes either, O'Dea confessed. "I broke the air bleed screw on the front brake.
"Brakes are over-rated anyway … they just slow you down," he laughed.
Meanwhile, Te Awamutu's Mark Penny (Suzuki RM-Z250) finished an unaccustomed 20th overall on Saturday but it was enough for him to maintain his grip on second overall in the championship, behind eventual winner Adam Reeves (Yamaha YZ450F), of Palmerston North.
Reeves was classified as finishing 28th overall on Saturday but his results at the earlier rounds were enough for him to edge out Penny for the main title.
Penny also finished runner-up in his under-300cc four-stroke class – frustratingly missing out by just one point — this time behind Mokau's Adrian Smith (Yamaha YZ250F).
Pukekohe s Jim Orton (RM250) won the over-200cc two-stroke class on Saturday but it wasn't quite enough to steal the series title, settling instead for overall runner-up in the class, behind Ohope's Brandon Given (KTM).
© Words and photo by Andy McGechan, www.BikesportNZ.com