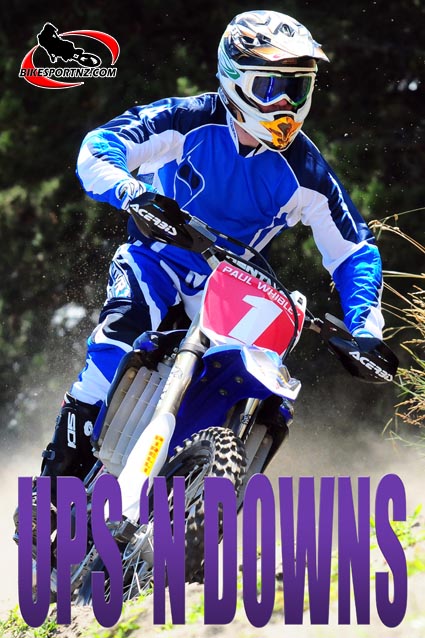 It could so easily have been a Kiwi 1-2 at the latest big motorcycle cross-country race in the United States.
Yamaha pair Paul Whibley, of Pahiatua, and Rory Mead, of Taupo, travelled to compete at round three of the Off-Road Motorcycle and ATV (OMA) series at Hanging Limb, Tennessee, on Sunday and, in the early stages of the race, it looked as if the two New Zealanders would finish on top with it just a matter of determining who would take the No.1 spot on the podium.
But it was not to be as Mead ran out of fuel while in the lead, Whibley roaring past to take the win and leading an eventual Yamaha 1-2-3 with Americans Thad Duvall and Jordan Ashburn completing the day's podium.
With steep uphills and rocky terrain on the 10-mile course, the riders had their work cut out for them, although Mead, in his debut season racing cross-country in the US and racing only selected events during a break in his domestic enduro campaign back home, proved he was up to the task.
"I got into the lead at the end of the first lap," said Mead, who was racing a Yamaha YZ450F borrowed from his friend and sometimes rival, regular US campaigner Whibley.
"I continued to lead right up until halfway through the fourth lap of the six-lap race. It was my first time running the oversized fuel tank on the bike and the plan was to get my pit crew to stop me on the same lap that Paul (Whibley) stopped for gas … this idea didn't work because I was ahead of Paul on the track when I needed to refuel.
"If I had known the time it would take to complete a lap, I would have worked it out to stop after three laps, but I thought the pit crew had it under control. The track was faster than I expected. It seemed quite flowing with a few technical spots, but, all in all, it was a great track and I really enjoyed the race.
"At least I know I'm on the pace with the top riders over here."
The next big race for the Kiwi pair is the sixth round of 13 in the Grand National Cross-country Championships (GNCC), set for Indiana this coming weekend.
LEADING RESULTS:
1. Paul Whibley (YAM)
2. Thad Duvall (YAM)
3. Jordan Ashburn (YAM)
4. Scott Watkins (HON)
5. Nick Fahringer (HUS)
© Words and photo by Andy McGechan, www.BikesportNZ.com