TWO-PRONGED TRIPLE R ATTACK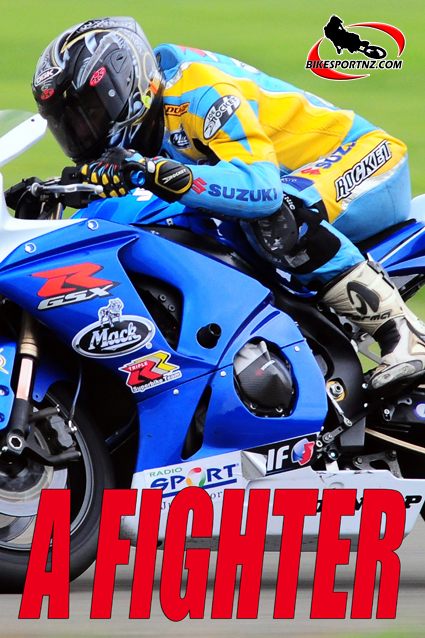 He may be injured and practically written-off by his rivals, but Christchurch-based Triple R team rider Robbie Bugden is not ready to lie down just yet.
The three-time former New Zealand Superbike Champion from Brisbane had his leg broken at Wanganui's famous Cemetery Circuit on Boxing Day but, regardless of that, the popular Brisbane rider still lifted himself from the sick bed to be on the starting line at Levels Raceway for round one of the New Zealand Superbike Championships, near Timaru, on Sunday.
Bugden (Mack Truck Suzuki Superbike), and his Christchurch team-mate James Smith (Elf Oils Suzuki Superbike), travelled to Timaru at the weekend to both race in the prestigious superbike class and each of the riders emerged with their credentials enhanced.
Despite his build-up being hampered by injury, Bugden qualified his Suzuki GSX-R 1000 on pole position and then finished race day second overall – behind defending champion Andrew Stroud (Documentary Channel Pirelli Suzuki) — after scoring third and second in his two outings.
"It wasn't a bad result," said Bugden, in classic understatement.
"I certainly had the speed. I'll only get stronger and faster from here as my recovery (from injury) continues.
"I wasn't even able to walk a week ago and would have been happy then to finish on the podium. I'll go home (to Brisbane) to get some rest now, but I'll be back and raring to go for round two at Teretonga Park (Invercargill) next weekend.
Triple R Suzuki team boss Red Fenton was excited about his riders' prospects.
"James (Smith) has really stepped it up his year," said Christchurch's Fenton.
"He qualified third fastest and then twice finished fourth, so that's a good, solid start to the season."
Round two of the series is set for Teretonga Park, Invercargill, on Saturday and Sunday, with round three at Ruapuna Raceway, Christchurch, on February 12-13. The series then heads north for round four at Hampton Downs, near Meremere, on March 26-27, with the fifth and final round at Manfeild, near Palmerston North, on April 2-3.
© Words and photos by Andy McGechan, www.BikesportNZ.com