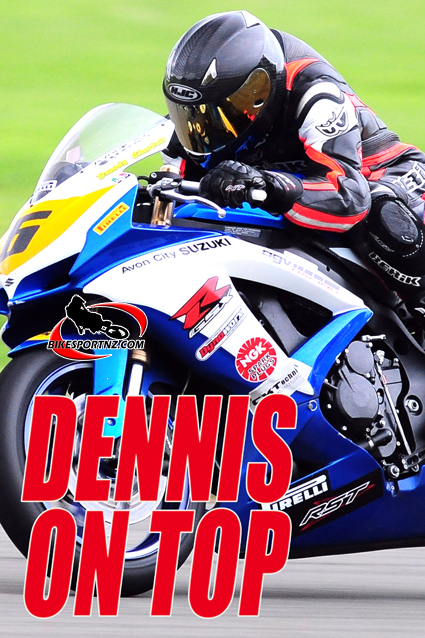 To finish first; first you must finish.
That saying could not be truer than for Australian Dan Stauffer, Feilding's Craig Shirriffs, Christchurch's Alastair Hoogenboezem, Hawera's Bryce Meads, Auckland's Karl Morgan and New Plymouth's Terry Fitzgerald.
Each of these riders failed to finish a race at the second round of five in this season's Castrol Power 1 Superbike Championships near Invercargill at the weekend.
In each case, the damage inflicted on their respective campaigns could prove to be fatal in terms of their title ambitions.
Then, with torrential rain lashing the Teretonga circuit, organisers were forced to prematurely end the meeting after one of two scheduled races for the superbike and 600cc bike riders, so the chance for these unfortunate men to make amends was lost.
The biggest winner on the day was perhaps Christchurch's Dennis Charlett (Suzuki), who won the 600cc supersport race and therefore gave himself a welcome 12-point break at the top of the standings over the man who had been joint leader after round one, fellow Christchurch man John Ross (Yamaha).
Ross finished fourth in the race on Sunday but remains second in the standings, 13 points ahead of Invercargill's Jeremy Holmes (Honda).
"It was very slippery but I still got close to the lap record in winning pole position on Saturday," said Charlett.
"But then I wheel-spun on the start line in the race, dropped back to about eighth, and had to fight my way through for the win," said the 42-year-old grandfather.
Meanwhile, Wanganui's Ashley Payne (Suzuki) was the best of the 600cc superstock racers – this class run in conjunction with the supersport bikes but scored separately – although Inglewood's Midge Smart (Yamaha) took second spot and with that built a four-point lead over Auckland teenager Jaden Hassan (Yamaha) at the top of the standings.
In the glamour superbike class, Tauranga's Sloan Frost (BMW) took maximum points, shooting away at the start to engage in a close battle with Stauffer (Yamaha) until Stauffer broke away and then promptly crashed, his front wheel sliding from under him.
Defending champion Andrew Stroud (Suzuki), from Hamilton, made up for a poor start to eventually fight through and claim second spot, while another visiting Australian, three-timer former New Zealand champion Robbie Bugden (Suzuki), crossed the line in third to maintain his challenge for the championship.
Stroud had now padded his series lead to 18 points over Bugden with Frost now up to third overall, 11 points behind Bugden.
Other class leaders after the weekend's damp event are Timaru's Johnny Small (Pro Twins), Palmerston North's Glen Williams (superlites), Tapanui's Seth Deveraux (pro lite 250), Dunedin's Scott Baird (super motard), Winton's Phillip Mair (street stock 150), Rangiora's Jake Lewis (125 GP), Wanganui's Stephen Bron and Dennis Simonsen (sidecars).
Round three is set for Ruapuna Park, Christchurch, next weekend (February 12-13).
© Words and photo by Andy McGechan, www.BikesportNZ.com