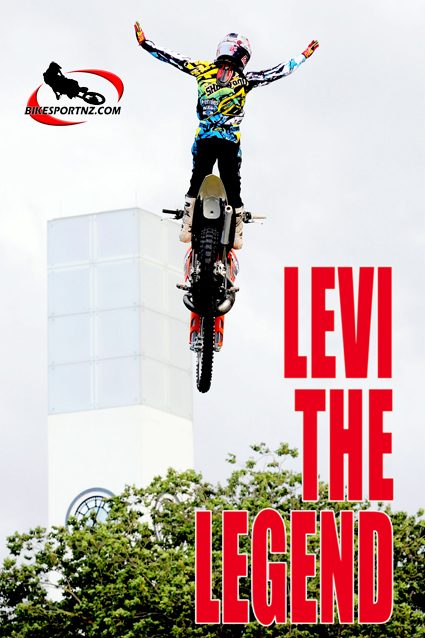 The Square in Palmerston North was filled to capacity with fans of freestyle motocross as Kiwi international Levi Sherwood and a few of his friends put on a special free show on Saturday evening.
The crowd gasped as a succession of back-flips, seat-grabs and superman tricks were performed, all part of the festival of motorcycling entertainment package that was being staged by the Manawatu-Orion Motorcycle Club as part of their centenary celebrations this year, also coinciding with the weekend's 50th annual Woodville Motocross on Saturday and Sunday.
The Rida Culture FMX Jam drew between 4000 and 5000 to The Square on Saturday night, thanks largely to the appearance by Palmerston North's own Sherwood.
For about two hours, Sherwood and fellow riders Mitch McHardy, Jason Rozycki and Jason White entertained the crowd with tricks, on ramps erected in The Square's event quadrant.
Organiser Josh Irwin said he had been inundated with messages of support.
"It went mint. It was really good to see a family event where everyone came down with picnics and had a good time."
There were concerns that Sherwood, who is recuperating from injuries suffered while on tour in the United States, might not be able to pull off his best tricks.
But these fears were set aside as soon as the 19-year-old pulled off his first back-flip.
His popularity was such that a queue formed around the corner from the Rida Culture shop when Sherwood went there to sign autographs.
Irwin said he would like to see the jam become an annual event.
"The people that went absolutely loved it and were saying `Palmy's actually done something that's pretty cool'," he said.
© Photos by Andy McGechan, www.BikesportNZ.com