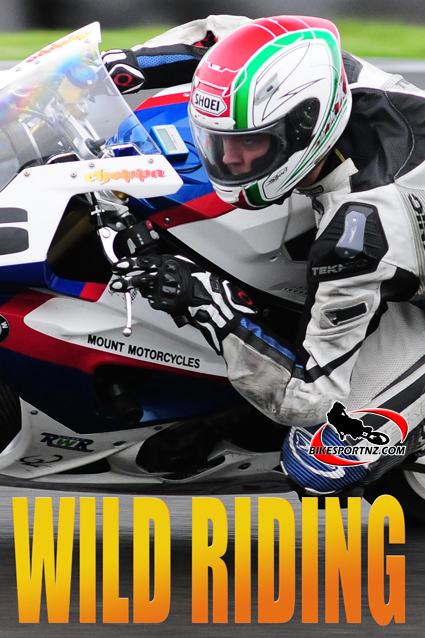 The trans-Tasman Suzuki rivalry continues in this season's New Zealand Superbike Championships, although it was a Kiwi on a BMW who nipped in to take the glory on Sunday.
Hamilton's Andrew Stroud (Documentary Channel Pirelli Suzuki GSX-R1000) and Australian Robbie Bugden (Triple R Mack Truck Suzuki GSX-R1000) have picked up where they left off last season and continue to battle for Kiwi glory.
They are still the men to beat at the top of the glamour superbike class standings after the second round of five at Teretonga Park, near Invercargill, on Sunday.
The day's action at Teretonga was cut short because of shocking weather and it was Tauranga's Sloan Frost (M1 Motorsport BMW) (pictured above) who won what became the only superbike race of the day, but with Stroud and Bugden finishing second and third respectively, it continues to be the two Suzuki men who lead the championship standings.
Stroud now enjoys an 18-point lead over Bugden as the series now heads to Ruapuna Park, Christchurch, for round three this coming weekend. Frost is third overall, another 11 points behind Bugden.
"It was appalling weather all day … the organisers did the right thing to call it off," said defending champion Stroud afterwards.
"I'm happy with my day but it would have been nice to do the second race. It was dangerous though, racing at speeds of 270 kmph, with the bikes skimming in the water and side winds making it doubly dangerous."
Bugden's Triple R Suzuki Team manager, Christchurch's Red Fenton, was impressed that the Australian three-time former New Zealand champion was still so competitive, despite not being 100% fit.
The Brisbane rider had his leg broken at Wanganui's famous Cemetery Circuit on Boxing Day but, regardless of that, Bugden put aside his crutches to be on the starting line at Levels Raceway for round one of the nationals, near Timaru, just over a week ago and then continued the brave fight on Sunday.
"I think, if Robbie had been fit at the start of this campaign, nobody would have been able to touch him," said Fenton. "He is still riding fantastically considering the condition he is in. I know he's going to get stronger each weekend from here."
Bugden's Triple R superbike team-mate, Christchurch's James Smith (Elf Oils Suzuki GSX-R1000), finished eighth on Sunday and unfortunately slipped from fourth to fifth in the series standings, behind Stroud, Bugden, Frost and unlucky Australian Dan Stauffer (Bernard Racing Yamaha YZF 1000).
Stauffer crashed while leading the race and, unable to finish, he has dropped from second equal to fourth in the standings.
Meanwhile, Christchurch's Dennis Charlett (Avon City Suzuki GSX-R600) made the most of his one outing at Teretonga, winning the 600 supersport race and shooting out to 12 points ahead of his nearest rival in the class, Pirelli Yamaha's John Ross, also from Christchurch. Ross finished an unaccustomed fourth on Sunday.
"It was very slippery but I still got close to the lap record in winning pole position on Saturday," said Charlett.
"But then I wheel-spun on the start line in the race, dropped back to about eighth, and had to fight my way through for the win," said the 42-year-old.
Wanganui's Ashley Payne (Hookes Pacific Suzuki GSX-R600) was the best of the 600cc superstock racers, winning the race-within-a-race – this class run in conjunction with the supersport bikes but scored separately.
Payne is now fifth in the superstock class standings, behind Inglewood's Midge Smart (Yamaha NZ), Auckland's Jaden Hassan (Ricoh Yamaha) and Christchurch pair Eric Oliver-Maxwell (Pirelli Yamaha) and Cameron Jones (Pirelli Suzuki).
Palmerston North's Glen Williams (Redpath Greenhouses Suzuki SVR650) extended his lead in the superlites class at Teretonga, while Johnny Small (Blastcraft Suzuki SV650) leads the Pro Twins class, Tapanui's Seth Devereaux (Dwains Service Centre Kawasaki) leads the pro lite 250 class, Winton's Phillip Mair (Suzuki RG150) leads the street stock 150 class, Dunedin's Scott Baird (Yamaha YZ450F) leads the super motard category, Rangiora's Jake Lewis (Honda) leads the 125GP class and Wanganui pair Stephen Bron and Dennis Simonsen (Suzuki) lead the sidecars division.
© Words and photos by Andy McGechan, www.BikesportNZ.com