There's no margin for error as the racers head further south for the second round of five of the New Zealand Superbike Championships near Invercargill this weekend.
The action was intense at the championship opener near Timaru last weekend and expected to be even hotter when the racers roll their bikes out onto the tarmac at Teretonga, just outside Invercargill, for round two of the Castrol Power 1-sponsored series this weekend.
A small blanket could have covered the lead riders in the glamour superbike class at Levels, with less than a second the difference in lap times between the top four or five men.
In the end it was defending superbike champion Andrew Stroud who emerged with all the glory, the Hamilton Suzuki star scoring maximum points with back-to-back wins.
But it could so easily have been a different story with two Australians, Suzuki rider Robbie Bugden and Yamaha rider Dan Stauffer, sharing second overall and Christchurch Suzuki rider James Smith right there for fourth overall.
Fifth overall after round one is Taranaki's Hayden Fitzgerald (Honda), with dual-class rider John Ross (Christchurch, BMW) sixth and Christchurch's Ryan Hampton (Honda)(pictured above) in seventh position and Tauranga's Sloan Frost (BMW) eighth overall.
"It wasn't a bad result for me at Levels," said three-time former New Zealand superbike champion Bugden.
It was a classic understatement from the Brisbane rider, who is still not 100% after breaking his leg in an accident on the streets of Wanganui on Boxing Day, but who qualified on pole nonetheless.
"I certainly had the speed. I'll only get stronger and faster from here as my recovery continues."
It was a similar case of fierce action with the 600cc bike racers at Levels, Christchurch pair John Ross (Yamaha) and Dennis Charlett (Suzuki) sharing the No.1 spot in the supersport division, with Invercargill's Jeremy Holmes (Honda) not too far behind in third. In the superstock (unmodified) section of 600cc race action – raced simultaneously on the track but scored separately — Inglewood's Midge Smart (Yamaha) and Auckland's Jaden Hassan (Yamaha) are inseparable at the top, with Christchurch pair Cameron Jones (Suzuki) and Eric Oliver-Maxwell (Yamaha) sharing third spot overall.
Racing also continues this weekend for competitors in the superlites, pro twins, prolite 250, 125GP, super motard, streetstock 150, clubmans and sidecars classes.
Round three is set for Ruapuna Raceway, Christchurch, the following weekend (February 12-13). The series then heads north for round four at Hampton Downs, near Meremere, on March 26-27, with the fifth and final round at Manfeild, near Palmerston North, on April 2-3.
© Words and photos by Andy McGechan, www.BikesportNZ.com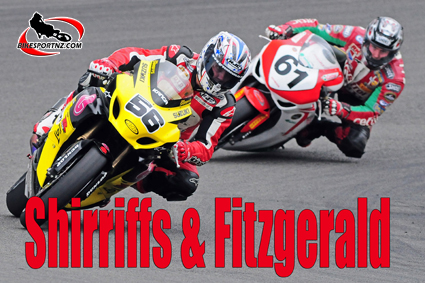 STANDINGS:
Unofficial points standings after round one at Levels Raceway, Timaru, last weekend:
Superbikes:
Stroud 50 Bugden 36 Stauffer 36 Smith 26 Fitzgerald 19 Ross 19 Hampton 16 Frost 16 Shirriffs 15 Clee 11
Supersport:
Ross 45 Charlett 45 Holmes 29 Skachill 27 Moir 23 A. Hoogenboezem 21 Morgan 18 J Hoogenboezem 16 Beagley 14
Superstock:
M. Smart 45 Hassan 45 Jones 29 Oliver-Maxwell 29 McNamara 21 S. Smart 18 Bradford 18 Payne 11
Superlite:
Williams 77 Easton 70 Smith 56 Pritchard 48 Moir 45 Wood 39 Agate 39 Fitzgerald 33 Gray 32 Jones 30
Pro Twins:
Small 100 Kempthorne 80 Southerwood 58 Stokes 58 Singer 44 Coutts 39 Montgomery 37 Knowles 32
125GP:
Lewis 65 G Hastings 52 Biddle 50 Baker 42 McGrath 31 Hudson 27 C. Hastings 25 Jarman 24 Mettam 22 Orwin 20
Prolite 250:
Devereux 65 Pyke 50 Faulkner 49 Billington 34 Vollmer 32 Orwin 29 Elliott 28 Woodruffe 16
Sidecars:
Bron/Simonsen 100 Unsworth /Dawe 80 Annan/Demmocks 48 Taylor /Hartnell 47 Mair/Denovan 34 Harris /Grace 29 Laurence/Skilton 22