NEARLY AT THE HALFWAY STAGE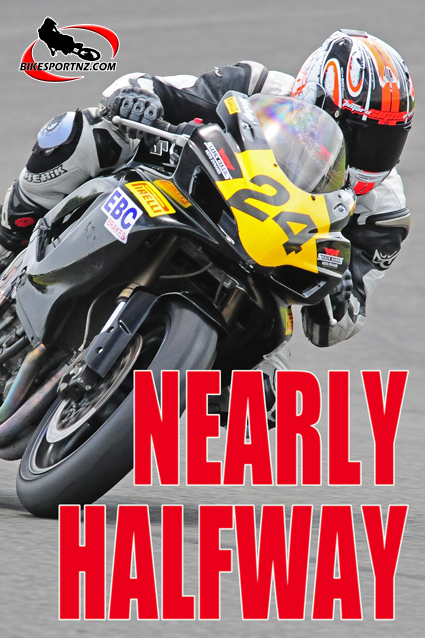 The action has been rip-fire and, with three rounds in as many weeks, this season's New Zealand Superbike Championships have been quick to reach the crucial halfway point.
The third round of five is set scheduled for Christchurch's Ruapuna Park this weekend with many riders already feeling the pressure to perform before their respective championship bids get quickly out of reach.
Hamilton's defending champion Andrew Stroud (Suzuki) has a solid lead in the chase for superbike class honours, although three-time former champion Robbie Bugden (Suzuki), from Australia, and the surprise winner at last weekend's rain-drenched second round at Invercargill, Tauranga rider Sloan Frost (BMW), are still close enough to challenge for the title.
"Visibility (from the rain spray) was certainly a problem last weekend," said Stroud, who still managed to battle through in the treacherous conditions and finish runner-up to Frost.
"I was happy with my day at Invercargill and it would have been nice to do the second race, but I think the officials made the right decision not to go ahead with it. Let's hope for some sunshine in Christchurch."
What transpires at Ruapuna Park this weekend will have a huge effect on where that coveted title eventually ends up.
The same goes for the 600cc classes where Christchurch's Dennis Charlett (Suzuki) has a slender lead over fellow Canterbury man John Ross (Yamaha) in the supersport section and Inglewood's Midge Smart (Yamaha) has only a tenuous lead over Auckland's Jaden Hassan (Yamaha) in the superstock (unmodified) division.
Even in the Pro Twins class, where Timaru's John Small (Suzuki) (pictured above) has been unbeaten thus far, is far from cut and dried, with Palmerston North's Daniel Kempthorne (Suzuki) still within strike range.
The margins are narrow too in the superlites class, where Palmerston North's Glen Williams (Suzuki) has a slim lead over Foxton's Jason Easton (Aprilia) and, in the prolite 250 class, Tapanui's Seth Devereaux (Kawasaki) will have to be wary of Christchurch's Alex Faulkner (Suzuki) catching him.
Dunedin's Scott Baird leads the super motard class by just 13 points from Dunedin's Dean Veitch; Winton's Phillip Mair leads the streetstock 150 class by just seven points from Invercargill's Stephen Winteringham; Rangiora's Jake Lewis (Honda) leads the 125GP class by just 17 points from Orewa's Avalon Biddle (Honda) and Wanganui pair Stephen Bron and Dennis Simonsen (Suzuki) lead the sidecars class narrowly from fellow Wanganui men Adam Unsworth and Stu Dawe (Windle).
© Words and photo by Andy McGechan, www.BikesportNZ.com