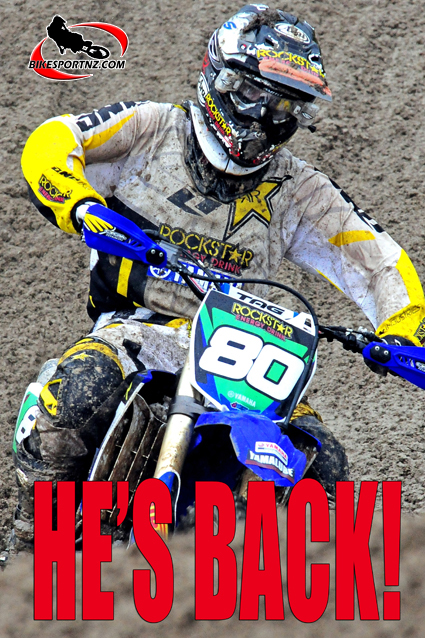 Cambridge's Damien King has shaken off his shoulder injury and is now ready to go on the offensive once again.
The current New Zealand 125cc motocross champion, and many-time former national champion, dislocated his left shoulder while leading the MX2 class action at the big annual Whakatane Summercross event just after Christmas.
That injury has keep him on the sideline in recent weeks as the MXDK Rockstar Yamaha Team rider sought to build up his strength ahead of the upcoming New Zealand Motocross Championships.
The nationals kick off in just over a week's time and the 35-year-old King is thrilled to report that he's "more than 100% ready to go" at round one near Timaru (on February 20).
He won't defend his 125cc crown, instead stepping up this season to tackle the MX2 (250cc) class.
"That's my job this season … to take the Yamaha YZ250F and win the MX2 class. I'm not going there to finish second or third. Yamaha put me there to do a job and win it."
"I will have my shoulder strapped and then have an operation on it in either April or May … but I'll worry about that then.
"In the meantime, I'm fitter than I've ever been and probably fitter than I would have been had I now had the accident. It has forced me to work even harder than I might otherwise have trained.
"It is going to be an awesome national series. There are perhaps six or seven guys who could win the MX2 class. I should be right in the mix of those riders."
Of course King will have to contend with such talented individuals as Peter Broxholme (Honda), Cam Dillon (Honda), Nick Saunders (Kawasaki), Luke Burkhart (KTM), Jayden Jessup (Yamaha), Daryl Hurley (Suzuki) and Brad Groombridge (Suzuki), to name just a few.
The MXDK Rockstar Yamaha team has riders in each of the three capacity classes – Motueka's Josh Coppins and Hamilton's Hayden Clark in the MX1 class, King in MX2 and Waitakere's Ethan Martens in the 125cc class. Martens finished runner-up to King in the 125cc class last year, before joining his former rival in the MXDK Rockstar Yamaha Team pits.
The four-round national series kicks off at McKnight's property, at Pleasant Point, just outside Timaru, before heading to Patetonga, near Morrinsville, for round two on February 27. Round three is set for Rotorua on March 20 with the fourth and final round in Taranaki on March 27.
© Words and photo by Andy McGechan, www.BikesportNZ.com