DAN'S NOT WASTING ANY TIME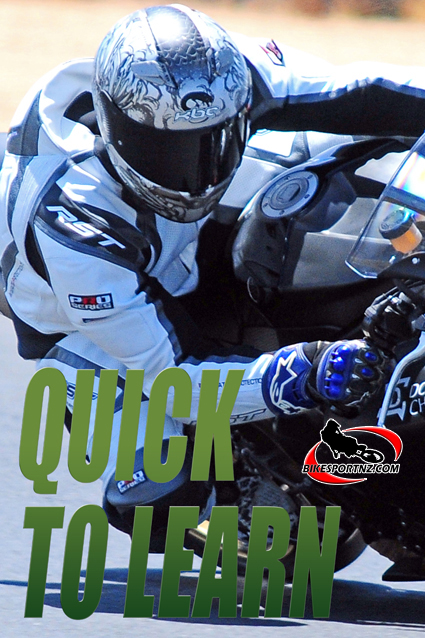 Perhaps one quick look at the track is all that it needs for visiting Australian Dan Stauffer to have everything all worked out.
A first-timer racing in New Zealand, Stauffer has confidence that he can very quickly learn each circuit as he goes and work out the traps and pitfalls he'll meet when racing on unfamiliar terrain at eye-watering speeds.
Riding for the Wanganui-based Bernard Yamaha Racing Team this summer, Stauffer has already enjoyed phenomenal success in New Zealand, winning the big Boxing Day meeting on Wanganui's famous Cemetery Circuit as a rookie rider at the event.
With experienced former racer Brian Bernard to help him, the Yamaha ace was again quickly on the pace at round one of the New Zealand Superbike Championships at Levels Raceway, near Timaru, on Sunday.
Stauffer qualified his 1000cc Yamaha R1 in second spot, just 600th of a second behind fellow Australian and three-time former New Zealand champion Robbie Bugden (Triple R Suzuki).
He was then found himself locked in a day-long battle with Bugden and defending national champion Andrew Stroud (Documentary Channel Pirelli Suzuki), of Hamilton, before emerging with 2-3 results, good enough for second equal overall.
It was wild riding too, with Stauffer at one stage forced to back off to avoid shunting Stroud and this resulted in Stauffer shooting off the track and onto the grass.
"Yes, he had a few scary moments trying to pass Stroud," said Bernard. "He was jolted out of his seat several times."
Stauffer was cool about it all.
"I ran through a corner at a fair rate of knots and ended up doing a heel-clicker on the grass. I lost a bit of time but caught back up again," said the 34-year-old Queensland rider.
"A couple of wins would have been a much nicer way to start.
"I haven't raced this close with these guys before but now I think I know their strengths and weaknesses. I'm looking forward to Teretonga (near Invercargill) for round two this weekend."
The superbike class standings after round one have Stroud on top with 50 points, Stauffer and Bugden second equal with 36, followed by Christchurch's James Smith (Triple R Suzuki, 26 points), with New Plymouth's Hayden Fitzgerald (Blue Wing Honda) and Christchurch's John Ross (Pirrelli BMW) rounding out the top six, each on 19 points.
© Words and photo by Andy McGechan, www.BikesportNZ.com