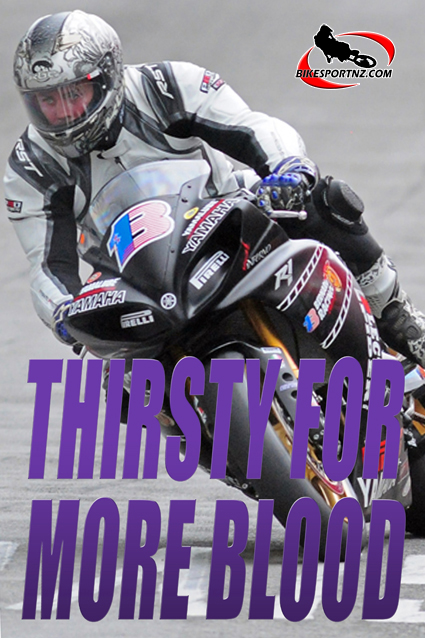 He's tasted Kiwi blood and he wants more.
Australian Dan Stauffer stunned the New Zealand motorcycling community when, as a first-time visitor to the country, he romped away to victory in the most iconic of Kiwi motorcycle races, the Robert Holden Memorial race at the annual Boxing Day meeting on Wanganui's Cemetery Circuit.
With just a quick prior drive around the notorious track in a car, he took his 1000cc Bernard Racing Yamaha R1 bike to win the big race ahead of such notable Kiwis as Andrew Stroud (Suzuki), Sloan Frost (BMW) and Nick Cole (Kawasaki).
Even his Bernard racing Yamaha team-mate that day, Canada's Andrew Nelson, had no answer for Stauffer.
Team owner Brian Bernard, of Wanganui, said he was thrilled to reveal that Stauffer would be back to race the five-round national series, which kicks off at Levels Raceway, near Timaru, this coming weekend.
He will also cross the Tasman to race at the annual Paeroa street races on February 20.
"He said to me after he won at Wanganui 'it'd be great to come back and have a crack at the nationals too … what do you reckon?' So that's what he's doing.
"Of course I'm very happy indeed," said Bernard.
"Yamaha New Zealand has come to the party and so too has the Electric Spider Company of Wellington, Pirelli tyres, Signedge of Rotorua and Yamalube. Without their help, this would not have been possible."
Another very quick Australian, Gold Coast rider Gareth Jones, raced for the Bernard Racing Yamaha team with great success, in 2008 and 2009.
Brian Bernard, himself a former national champion who continues to run coaching schools for Yamaha, knows how to build winning teams.
Jones won the New Zealand 600 sports production championship for Yamaha in 2009, as well as finishing a strong third overall, for the second consecutive season, in the superbike class.
Jones' performance in the 600cc class that summer was incredible. He was beaten just once in 10 races on his way to the title win.
For Stauffer, every round will be a steep learning curve. He will need to learn the tracks as he goes, although he's already shown he's a fast learner with his epic Wanganui win.
"Yes, he is a fast learner and, besides that, we know all the settings we'll need for those tracks. He's in good hands," said Bernard.
© Words and photo by Andy McGechan, www.BikesportNZ.com