Uncertainty and raw nerves, coupled with horsepower and adrenaline could make this year's national motorcycle road-race series one of the most exciting in years.
The Castrol Power 1 New Zealand Superbike Championships kick off at Levels Raceway, near Timaru, this weekend (Jan 29-30) with nothing certain except that there will definitely be new names on the trophies in many of the championship classes when the five-round series finally wraps up at Manfeild in April.
The 600cc class champion last season, Hamilton's Nick Cole (Kawasaki), and the No.2 600cc rider from 2010, Christchurch's James Smith (Suzuki), both concentrate this year on the bigger superbike class, leaving national No.3 John Ross (Yamaha) as the likely favourite to win 600cc honours in 2011.
But Ross can take nothing for granted with Inglewood's Midge Smart (Yamaha), Wellington's Glen Skachill (Suzuki), Christchurch's Dennis Charlett (Suzuki) and Auckland's Jaden Hassan (Yamaha) among those all capable of winning.
The 600cc class will be split into two components this season — supersport (modified) and superstock – the two separate championship classes running together on the race track but scored separately.
The champion in the 125cc class last season, Christchurch's Alastair Hoogenboezem (Suzuki), is also not defending his title in 2011.
This perhaps leaves the way clear for the runner-up in 2010, young Auckland girl Avalon Biddle (Honda), to snatch the crown.
However, she can expect tough opposition from Rangiora's Jake Lewis (Honda), Auckland teenager Daniel Mettam (Honda), Malaysian visitor Amirul Hafiq Azmi (Honda) and rising Australian star Josh McGrath (Yamaha).
Dannevirke's Geoff Booth (Suzuki) won't be back to defend his 650 Pro Twins title, meaning a new champion will be crowned there this season too. Who will step up to the plate here is anyone's guess.
The battle for sidecars honours could be another tight one with Wanganui pair Stephen Bron and Dennis Simonsen (Suzuki) likely to have their hands full with Suzuki Tri Series rivals Adam Unsworth and Stu Dawe (Windle), also from Wanganui.
Meanwhile Waikato father-of-eight Andrew Stroud (Suzuki) is favoured to retain his national superbike title, although he'll first have to withstand enormous pressure being applied by Smith, superbike class newcomer Cole and Hamilton's Sloan Frost (BMW).
Three-time former champion Robbie Bugden (Suzuki), who was injured during the street circuit racing on Boxing Day, has vowed to be on the start line at Levels.
This is despite the fact that he hasn't been able to ride as much as he'd have liked in the pre-season build-up period following an accident at the Cemetery Circuit street races in Wanganui on Boxing Day.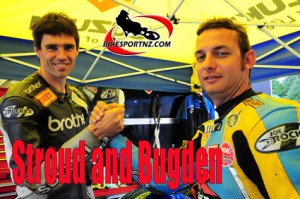 The victim of an over-exuberant rival, Bugden was shunted from behind, resulting in the popular Australian leaving the track with a broken leg.
Bugden won the New Zealand superbike crown in 2007, 2008 and 2009 and he would like nothing better than to snatch it back again in 2011.
Another Australian, Yamaha's Dan Stauffer, who won on the streets of Wanganui on Boxing Day, should also spark up the challenge for superbike glory, while Feilding's Craig Shirriffs (Suzuki) and Taranaki's Hayden Fitzgerald (Honda) could threaten too.
Round two of the series is set for Teretonga Park, Invercargill, on February 5-6, with round three at Ruapuna Raceway, Christchurch, on February 12-13. The series then heads north for round four at Hampton Downs, near Meremere, on March 26-27, with the fifth and final round at Manfeild, near Palmerston North, on April 2-3.
© Words and photos by Andy McGechan, www.BikesportNZ.com