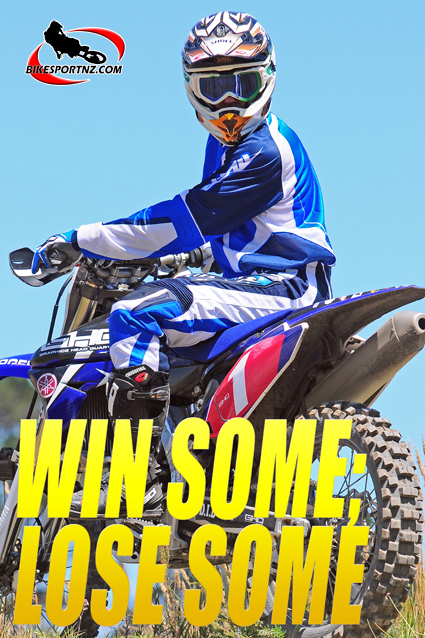 New Zealand's Paul Whibley celebrated victory at the penultimate round of the Grand National Cross-country Championships in St. Clairsville, Ohio, at the weekend but it was nowhere near enough for him to keep his American crown.
Instead it was the rider who finished third at the weekend, Australian Suzuki rider Josh Strang, who claimed top honours in the GNCC series this season.
Whibley could do nothing to prevent Strang from stealing off with his American title he clinched for the first time last season, but winning the weeekend's penultimate round was certainly a fine consolation prize for the Yamaha ace from Pahiatua.
The victory meant Whibley maintained his position at fourth in the 2010 championship standings but it also very nearly gave him the No.3 spot. He is now just five points behind the third-ranked rider, American KTM rider Cory Buttrick, with one round to go.
Whibley (Yamaha YZ450F) got off to a great start, claiming the $250 holeshot cash, but it wasn't long before Australian Glenn Kearney moved his 310cc-kitted Husqvarna onto the Kiwi's rear fender, the two riders swapping the lead for most of the three-hour race.
Kearney made a few last-ditch pass attempts near the end of the race, but Whibley was able to hold on to take the win — his first GNCC victory in what has been a tough season for him.
"It feels great to win again," said Whibley. "I got a good start and about midway through the first lap I started getting in a groove. I really didn't want to have the lead that early but I was going a good pace and then Glenn caught me and we went back and forth.
"He closed on me near the end and I just had to push a little harder and it ended up being a pretty tough race, Glenn was going really well."
Strang was naturally overjoyed to win his first American title.
"This was the toughest race of my life," said Strang. "I didn't get the start I usually get, I couldn't find my rhythm and Charlie was riding really good. I finally just put my head down and rode as hard as I could and I got him just as we came out of the woods before the finish. It was a heck of a race and it's incredible to win the title."
Meanwhile, it hasn't been an entirely fruitless season for Whibley.
Whibley is running away with the parallel Off-road Motorcycle and ATV series and is expected to successfully wrap up his title defence in that competition in the coming weeks.
RESULTS:
XC1 class:
1. Paul Whibley (Yam)
2. Glenn Kearney (Hsq)
3. Josh Strang (Suz)
4. Charlie Mullins (Yam)
5. Barry Hawk Jr. (Yam)
6. Michael Lafferty (Hsb)
7. Cory Buttrick (KTM)
8. Toby Price (KTM)
9. Justin Williamson (Kaw)
10. Kenneth Gilbert (Kaw)
XC1 class championships standings after 12 of 13 rounds:
1. Josh Strang (280/5 wins)
2. Charlie Mullins (248/3 wins)
3. Cory Buttrick (225/1 win)
4. Paul Whibley (220/1 win)
5. Chris Bach (191)
6. Glenn Kearney (189)
7. Nate Kanney (167/1 win)
8. Barry Hawk Jr. (154)
9. Kenneth Gilbert (131)
10. Jimmy Jarrett (117/1 win)
© Words and photo by Andy McGechan, www.BikesportNZ.com