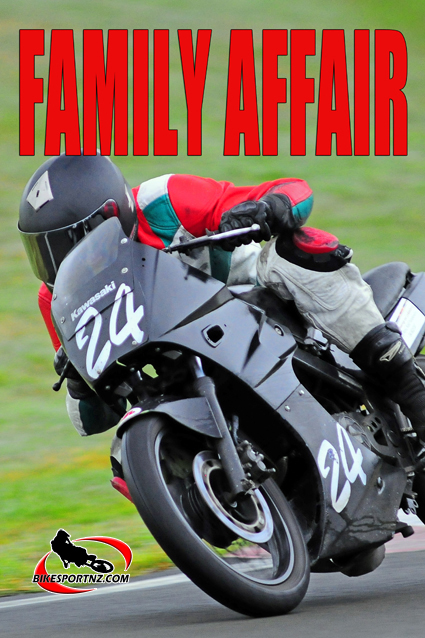 Make a note of the surname Croft, it's likely to pop up time and again when talk turns to racing in the 150cc street stock class this season.
For 55-year-old David Croft, a mental health programme manager on the Kapiti Coast, it's getting harder and harder with each passing month for him to keep pace with his sons, 18-year-old Andrew and 16-year-old Sam, but he says it is a lot of fun trying and agrees it's a great way stay "mates" with his children.
The trio each have a Kawasaki KR125 to race and it's a real family affair when the results are tallied up at the end of the day.
Sam leads the street stock 150 class – 11 points ahead of fellow Kawasaki rider Daniel Mettam, of Auckland — after the fourth round of the Victoria Motorcycle Club's Actrix Winter Series and David Croft is not far behind in third place.
Andrew, the head boy at Kapiti College, is currently sitting in seventh spot overall but he is sure he can move up before the series winds up in October.
"Our aim is to have all three of us inside the top five by series end," said David.
The Paraparaumu man said he used to race frequently when he lived on the South Island's West Coast back in the 1980s, then took time off to be a dad.
"When Andrew won the Victoria Motorcycle Club's scholarship in 2008, it was time to get back into it again. It snowballed from there and now we're doing the series as a team.
"These Kawasaki KR150 bikes are just so reliable and handle really well too. All we do is take them out of the garage and head to the track to race them. Then take them home and put them back in the garage again. There's no real work required on them but it's just a lot of fun to race them."
The Croft family racers are supported by Darbi Accessories, Boyle Kawasaki, RPS Signs, Kapiti Bearings and Locksmith, and Bruce Telford, of Horsepower Motorcycles in Otaki, tunes the bikes for them.
© Words and photo by Andy McGechan, www.BikesportNZ.com