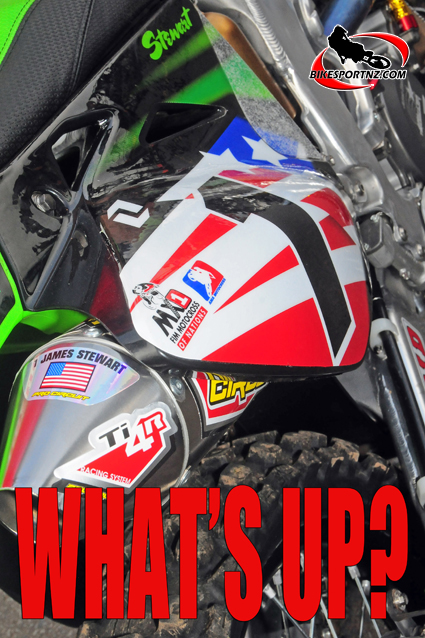 COMMENTARY:
News came through yesterday that former AMA Motocross and Supercross Champion James Stewart has decided now not to see out the rest of the AMA motocross season.
Sour grapes at not being chosen for the Motocross of Nations team? Or is it true that his wrist injury is still holding him back and more serious than we all thought?
Sidelined with this injury for much of the year, the rider with a supercross-only contract nevertheless decided to make a comeback to racing at the ninth round of 12 of the motocross nationals at Unadilla last weekend.
This was a thinly-veiled last-ditch attempt by Stewart to force his way into the reckoning for a spot on Team USA for this year's MXoN event in Colorado.
It sort of backfired on Stewart, however, for two reasons.
He not only failed to greatly impress – although some would agree that a third placing in moto one in his first comeback ride was quite respectable – his withdrawal (DNF) from moto two was extremely disappointing.
Secondly, the MXoN team had apparently been chosen already and it was announced after moto one that Andrew Short would be the rider with MX3 duties, to team up with Ryan Dungey (MX) and Trey Canard (MX2).
According to an informed source in the US, reporting exclusively to BikesportNZ.com, "the decision to go with Short over Stewart was made on the Friday one week prior to Unadilla, and (Stewart's team manager) Larry Brooks and Stewart were both informed of this. So when it was announced after the first moto at Unadilla, it was no surprise to James or Larry, despite what their reaction may have been.
"The fact is that James really wanted to be on the team, and the reason he wanted to be on the team was for his reality TV show. I believe that was his sole motivation. When he wasn't chosen, he went to Unadilla thinking he would smoke Dungey and the boys off the bench and show everyone that not choosing him was a big mistake. When that didn't pan out for him, he really had no motivation to stick around and race the last three nationals.
"I understand that when you have a camera crew in your face most of the day, much of what you do is done with the thought of how it is going to look on TV six months from now … and watching the fastest rider in the world struggle to make a podium, while training his ass off in a futile attempt to get in the kind of shape Dungey is in, is not the kind of thing that Big James would allow Bubba to do."
We have to ask why Stewart would be so shallow and selfish as to try to push his way into the MXoN team anyway if he was plainly not 100%. He would not be an asset to Team USA at all and possibly fail them at a vital moment … although, quite frankly, still one of the most viciously fast and entertaining riders on the planet when he's at his best (despite being humbled by Stefan Everts at the MXoN in Britain in 2006).
Then, just to spice things up another notch, there were rumours swirling about that Stewart would instead put himself forward to be one of the riders in Puerto Rican team at the MXoN.
It was suggested that Team Puerto Rico for the 2010 Motocross of Nations could be Stewart, Zach Osborne and Kyle Regal.
That would certainly have been interesting, although we feel that Stewart would make himself public enemy No.1 if he took points off a "genuine" team USA rider and the Americans ended up losing the MXoN crown because of it.
Zach Osborne has, however, meanwhile scotched those rumours by saying that the third rider would be a Puerto Rican.
Nothing would surprise anyone though, with the Americans basically sending a "B" team to the MXoN each year and giving them two cracks at the title.
Although not a state of the USA, Peurto Ricans use US diplomatic facilities worldwide and are issued with a US passport for international travel, which also allows American riders to compete for them under the passport eligibility rules.
Now, as for Team Britain, they fill up their line-up with Scottish riders, which means it is possible for them to use riders such as Dean Wilson, Stephen Sword, Billy Mackenzie and Shaun Simpson. The Scots can't go it alone as a country in their own right because, unfortunately, the Scottish association is affiliated with the British ACU, thus, the Scots have no standing with the FIM.
With Team Italy not now able to send its best three riders, two of whom are automatic choices — MX1 world champion Antonio Cairoli and former MX1 world champion David Philippaerts — the MXoN loses a lot of fizz.
A stand-off between the sponsors of Cairoli and Philipparts (KTM and Yamaha respectively) and the sport's governing body in Italy mean these two riders won't be going.
KTM and Yamaha want a logo on the jerseys of the riders they pay millions of dollars to run and the Italian federation says "no".
Damn shame. Who is going to keep Dungey honest in Colorado?
As for Team New Zealand? We'll just pick three hard-working born-in-NZ riders from our meagre population of four million and see what we can do with that. No double dipping; no passport-rigging; no rule-bending; no silly spats between sponsors and officialdom.