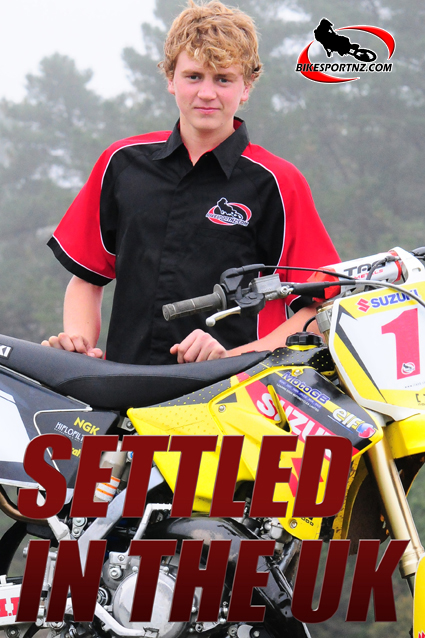 Double New Zealand junior motocross champion Kayne Lamont, his father Stu and Uncle Phil have now settled in the United Kingdom.
"The 27-hour flight certainly took its toll as we are only now just getting over it," said Stu, even a week after arriving in London.
"We actually walked past the gate with the people waiting for the Mangalore flight that crashed."
The 16-year-old Kayne Lamont will contest the last five rounds of this year's 125cc European Motocross Championships (EMX125), a support class to the MX1 and MX2 world championships, as well as following through on his original plan to contest the Junior World Motocross Championships, that event set for France on August 21-25.
But first there was the business of getting acclimatised and meeting the people who will make things happen for the Kiwi crew abroad.
"We spent three days in London doing the sightseeing stuff, not really our cup of tea, then travelled to Swindon where we met up Paul Butler the team manager for Suzuki Great Britain Youth Team (Swindon is about 90 minutes' drive from Wales).
"We stayed at Paul's home the first night and sorted out what we are doing over the next few months and he had a practice bike for Kayne and done some testing on Tuesday. They took the bike and lightened up the suspension and tested again at Apex, this track is solely a training track and has wood chip mixed in with to keep moisture in the track something we hadn't ridden on anything like that before but Kayne come to grips with it quickly and put in some good lap times and three 20-minute motos.
"Kayne and Paul's son Keaton (another team rider) did a cycle through the countryside and went the gym in this luxury manor … quite unbelievable really as it located in part of a castle set up approx 600 years old with large ponds, wooded areas with wild deer walking nearby.
"We have a new Suzuki RM125 turning up on Tuesday and will be setting it up the same as the practice bike ready for France. We also met and rode with a couple of the team members today they are a good bunch and we fit in well, everyone has been so helpful and really make us welcome.
"We have been to Wales to check out a race truck that we will be using for the next couple of months, we pick it up and the bikes on Wednesday and head off to France.
"We are going to meet up with (Kiwi motocross GP star) Josh (Coppins) next week and are looking forward to that."
Lamont's first big EMX125 race is set for France on June 6th, with rounds to follow in Germany (June 20th), Sweden (July 4th), the Czech Republic (August 8th) and Italy (September 12th).
"All this racing in the EMX125 championships will be fantastic build-up for the Junior World Motocross Championships in France."
Lamont is sponsored by Fox Racing, Elf lubricants, Scott goggles, FMF pipes, Pirelli tyres, Acerbis, Vesrah brake pads, NGK Spark Plugs, D.I.D Chain, Hi Flo filters, Tag bars and grips, MotoGB Suzuki, Suzuki New Zealand, Speed Shop, BikesportNZ.com, Advance Physiotherapy, StormMaster Moto Socks, Leatt neck brace, Bay Engineers Supplies, Proshield and iLabb graphics.
© Words and photos by Andy McGechan, www.BikesportNZ.com