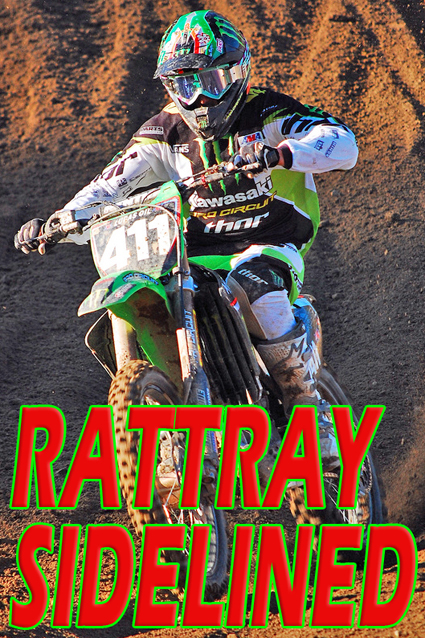 South African MX2 world champion Tyla Rattray is on the bench.
Rattray will be forced to sit out the next two rounds of the AMA Motocross Championship after crashing in the second moto at Red Bud last weekend.
The Pro Circuit Kawasaki rider was pitched over the handlebars in moto two after the notorious Red Bud breaking bumps bit him hard. He got up from the crash holding his hand, and after a brief trackside inspection, a broken thumb was diagnosed.
A proper check on Monday confirmed the finding. An operation is scheduled for Tuesday to pin the thumb, and it is expected that Rattray will be out of action for two races, and hopefully will be ready for action again at the last four rounds of the series.
That leaves it to team-mates, Jake Weimer — the 250cc class winner at Red Bud — and series points leader Christophe Pourcel, to wave the flag for the Pro Circuit Kawasaki team.
Former MX2 world champion Pourcel — who finished runner-up to Weimer at Red Bud — is nine points clear of Suzuki's Ryan Dungey.
Sadly for Rattray, however, the latest set-back means he has not only dropped from being third in the championship before Red Bud, to fifth overall, but he is also likely to slip further back with Honda's Blake Wharton, Weimer and Honda's Justin Barcia fast chipping away at his points.
"I obviously feel very disappointed, I really liked this track and I was feeling the best I have all season in that second race, I was making a lot of passes and riding with a lot of momentum, and I was just going forward so easily," said Rattray.
"I don't know what happened really, I think I must have just hit some big braking bumps wrong and got thrown over the bars pretty hard.
"The medics at the track took some x-rays and they say my thumb is broken. Tomorrow morning I will be seeing a specialist to see what the extent of the injury is and how long the recovery time will be, I'm hoping its not too serious so I can get back out there.
"It's just a pity because I feel like was starting to figure things out and getting better for the 2nd half of the season. I hate injuries but I guess they are just part of the sport so I will keep me head up, keep working hard and come back strong again as soon as I can."
Here is an interview done with Rattray soon after he arrived in the United States. He talks about winning the world title and what he was expecting from racing in America.

More Motocross >>
250cc class points standings after round six at Red Bud:
1. Christophe Pourcel (Kawasaki) 255
2. Ryan Dungey (Suzuki) 246
3. Tommy Searle (KTM) 191
4. Brett Metcalfe (Honda) 179
5. Tyla Rattray (Kawasaki) 175
6. Blake Wharton (Honda) 156
7. Jake Weimer (Kawasaki) 153
8. Justin Barcia (Honda) 151
9. Boc Tickle (Yamaha) 141
10. Trey Canard (Honda) 139
Photo by Stryder