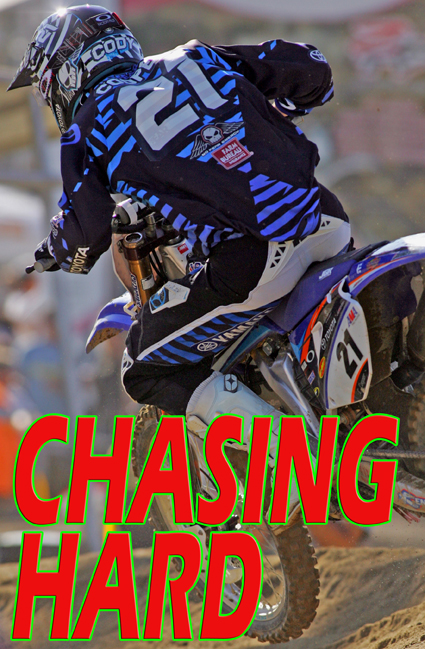 Kiwi hero Cody Cooper is on the move.
The Yamaha rider from Mount Maunganui rocketed to sixth and fifth placings at round six of the AMA Motocross nationals at RedBud, in Buchanan, Michigan, at the weekend, his best showing of the season.
It was enough to lift him up one position, from eighth to seventh in the championship standings.
Fellow Kiwi riders Justin McDonald and Luke Burkhart were also back in action at RedBud and the two Honda riders also scored points.
McDonald 24th and 18th, for 22nd overall on the day, while Burkhart managed 18th and 31st, for 23rd overall on the day.
Neither McDonald nor Burkhart have raced at all of the rounds — but they find themselves ranked 34th and 48th respectively after six rounds thus far.
Cooper's Yamaha team-mate, Josh Grant, took the overall win in the 450cc class on Saturday.
The event also saw Australian Suzuki rider Chad Reed returning to form after a poor showing at Thunder Valley, while the Honda factory pair of Ivan Tedesco and Andrew Short also attacked.
Short led for much of moto one, followed closely by Reed, with the Aussie finally overtaking the Honda rider on the 11th lap to ride to victory.
A mistake by Short with two laps to go allowed third-placed Grant to slip into second and challenge Reed for the win. Short maintained third but ultimately crossed the finish-line 12 seconds behind the front two riders.
Tedesco got the better of fellow California native Ricky Dietrich (Kawasaki) on the third-lap to capture fourth place, but then lost the position to Cooper on lap 12. A mistake by Copper with two laps to go allowed Tedesco and Dietrich to slip past and take fourth and fifth. On the same lap the eighth-placed Thomas Hahn dropped out of the race. Yamaha riders Jason Lawrence and Josh Hill were also unable to finish the race, leaving on the 5th and 1st laps respectively.
Yamaha's Grant rode to his first career 450 AMA Motocross win in moto 2 after passing Tedesco on the fifth lap and increasing his lead thereafter to more than five seconds.
Tedesco came under pressure for second from Reed, who passed Short on lap eight and finally caught up to Tedesco on the final lap.
In a side-by-side finish, Tedesco only just managed to fend off the Australian as he crossed 0.05 seconds in front.
More than 25 seconds behind the front group came Short, in fourth, trailed by Cooper, 10 seconds further back in fifth.
Dietrich took a respectable sixth as the replacement for Kawasaki's injured Ryan Villopoto. Australian Michael Byrne (Suzuki), Nicholas Wey (Yamaha), Tyler Bowers (Honda), and Lawrence (Yamaha) rounded out the top 10.
450cc class overall top-10:
1. Josh Grant (Yamaha YZ 450F) 2-1
2. Chad Reed (Suzuki RMZ 450) 1-3
3. Ivan Tedesco (Honda CRF450R) 4-2
4. Andrew Short (Honda CRF450R) 3-4
5. Cody Cooper (Yamaha YZ 450F) 6-5
6. Ricky Dietrich (Kawasaki KX 450F) 5-6
7. Michael Byrne (Suzuki RMZ 450) 7-7
8. Tyler Bowers (Honda CRF450R) 8-9
9. Nicholas Wey (Yamaha YZ 450F) 10-8
10. Justin Brayton (KTM 450 SX-F) 11-11
450cc class points standings:
1. Chad Reed – 240
2. Andrew Short – 219
3. Ivan Tedesco – 200
4. Josh Grant – 198
5. Michael Byrne – 145
6. Michael Alessi – 142
7. Cody Cooper – 135
8. Thomas Hahn – 123
9. Ricky Dietrich – 119
10. Nicholas Wey – 101
Meanwhile, in the 250cc class, Jake Wiemer rocked to his second overall win of the championship at RedBud on Saturday.
Kawasaki's Weimer took the overall win in the Motocross Lites class in an action-packed weekend at RedBud MX after Moto 1 and Moto 2 winners Ryan Dungey (Suzuki) and Christophe Pourcel (Kawasaki) both failed to impress.
Weimer led for the first two laps of Moto 1 before Dungey overtook him and maintained the advantage until the finish. The two were neck-and-neck for the majority of the race but Dungey ultimately crossed the finish-line almost three seconds ahead of the Idaho rider.
Australian Brett Metcalfe kept third ahead of his Honda team-mate, Justin Barcia, for 13 straight laps until the hard-charging Georgia native finally bested him on the final lap to steal third.
British rider Tommy Searle (KTM) and South African MX2 world champion Tyla Rattray (Kawasaki) were the next group of riders across after running close for the last half of the race. Points leader Pourcel had a terrible start that left him in 24th after the first lap, but by lap seven he had worked his way through the pack to ninth.
Ultimately the Kawasaki rider would take a lonely eighth behind Kawasaki's Kyle Cunningham. Will Hahn and Matt Lemoine filled out the top-ten for Moto 1.
Pourcel and Searle dominates moto 2 after passing KTM's Martin Davalos on the fifth lap, with Pourcel hanging on for the win. Davalos continued to lose ground and would be overtaken by Metcalfe and Weimer on lap seven. Metcalfe finished ten seconds ahead of Weimer for a comfortable third. Davalos hung on to fifth in front of England's Max Anstie. Barcia led the next group of rider across to take seventh, followed by Moto 1 winner Dungey in eighth. Honda's Blake Wharton and Yamaha's Broc Tickle took the final two spots in the top-ten.
250cc class overall top-10:
1. Jake Weimer (Kawasaki KX 250F) 2-4
2. Christophe Pourcel (Kawasaki KX 250F) 8-1
3. Tommy Searle (KTM 250 SXF) 5-2
4. Brett Metcalfe (Honda CRF250R) 4-3
5. Ryan Dungey (Suzuki RM Z250) 1-8
6. Justin Barcia (Honda CRF250F) 3-7
7. Kyle Cunningham (Kawasaki KX 250F) 7-11
8. Matthew Lemoine (Yamaha YZ 250F) 10-12
9. William Hahn (KTM 250 SXF) 9-14
10. Martin Davalos (KTM 450 SX-F) 20-5
250cc class points standings:
1. Christophe Pourcel – 255
2. Ryan Dungey – 246
3. Tommy Searle – 191
4. Brett Metcalfe – 179
5. Tyla Rattray – 175
6. Blake Wharton – 156
7. Jake Weimer – 153
8. Justin Barcia – 151
9. Boc Tickle – 141
10. Trey Canard – 139
Photo by Big Joe, www.BikesportNZ.com