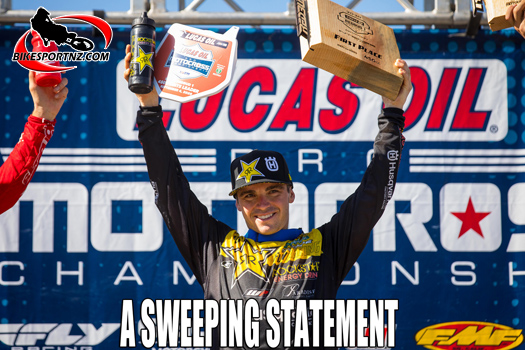 Rockstar Energy Husqvarna Factory Racing Team's Zach Osborne made a sweeping statement in the 450MX class in the United States at the weekend.
He produced an incredibly dominant 1-1 performance at the RedBud I National, serving as round four of the 2020 AMA Pro Motocross Championship in Buchanan, Michigan. His team-mate, RJ Hampshire, scored a solid second overall in the 250MX class with 2-5 finishes for the day.
Osborne came into Friday's first-ever Pro Motocross double-header with two overall victories under his belt but the 450MX points leader achieved a career milestone when he made it a 1-1 sweep on the way to earning overall-win No.3 this season.
Osborne maximized all efforts on the racetrack as he claimed the holeshot in both motos before going on to lead all 35 laps of the day. Heading into the mid-way point of the series on Monday, he extends his championship points lead to 26 with five rounds remaining.
"It was pretty much a perfect day for me," Osborne said. "Two holeshots and wire-to-wire race wins for the overall. I'm really happy with my riding and my fitness, and my bike is working perfectly so I'm looking forward to Monday and the rest of the series."
Fellow Husqvarna rider Dean Wilson grabbed a top-10 start in Moto 1 and a mistake dropped him back to 14th early on. He fought his way back up to ultimately finish 12th in the first moto. In Moto 2, Wilson got off to a decent start and he battled just outside the top-10 early on. He maintained a solid pace to finish 11th in the moto, taking home 11th overall for the day.
"I came in a little battered and bruised from last week's crash and the effects afterwards were definitely a lot worse than I thought," Wilson said. "I pushed through the day and ended up 11th, which is not great but all we can do is heal up a bit and come in on Monday better."
Find BikesportNZ.com on FACEBOOK here    
RedBud MX – Buchanan, Michigan – September 4, 2020
450 Class Overall Results (Moto Finish):
1 Zach Osborne, Abingdon, Va., Husqvarna (1-1)
2 Chase Sexton, La Moille, Ill., Honda (3-4)
3 Justin Barcia, Monroe, N.Y., Yamaha (6-2)
4 Marvin Musquin, France, KTM (2-6)
5 Adam Cianciarulo, Port Orange, Fla., Kawasaki (5-3)
6 Eli Tomac, Cortez, Colo., Kawasaki (4-5)
7 Christian Craig, El Cajon, Calif., Honda (7-8)
8 Blake Baggett, Grand Terrace, Calif., KTM (10-7)
9 Broc Tickle, Holly, Mich., Yamaha (8-9)
10 Dean Wilson, Scotland, Husqvarna (12-11)
450 Class Championship Standings:
1 Zach Osborne, Abingdon, Va., Husqvarna – 172 Points
2 Marvin Musquin, France, KTM – 146 Points
3 Justin Barcia, Monroe, N.Y., Yamaha – 133 Points
4 Eli Tomac, Cortez, Colo., Kawasaki – 129 Points
5 Adam Cianciarulo, Port Orange, Fla., Kawasaki – 125 Points
6 Chase Sexton, La Moille, Ill., Honda – 116 Points
7 Blake Baggett, Grand Terrace, Calif., KTM – 106 Points
8 Broc Tickle, Holly, Mich., Yamaha – 96 Points
9 Christian Craig, El Cajon, Calif., Honda – 86 Points
10 Dean Wilson, Scotland, Husqvarna – 77 Points
250 Class Overall Results (Moto Finish):
1 Jeremy Martin, Millville, Minn., Honda (1-1)
2 RJ Hampshire, Hudson, Fla., Husqvarna (2-5)
3 Shane McElrath, Canton, N.C., Yamaha (8-2)
4 Dylan Ferrandis, France, Yamaha (7-3)
5 Alex Martin, Millville, Minn., Suzuki (6-4)
6 Jett Lawrence, Australia, Honda (4-8)
7 Cameron McAdoo, Sioux City, Iowa, Kawasaki (5-7)
8 Ty Masterpool, Paradise, Texas, Yamaha (3-13)
9 Justin Cooper, Cold Spring Harbor, N.Y., Yamaha (9-6)
10 Brandon Hartranft, Brick, N.J., KTM (11-9)
250 Class Championship Standings:
1 Jeremy Martin, Millville, Minn., Honda – 181 Points
2 Dylan Ferrandis, France, Yamaha – 169 Points
3 Alex Martin, Millville, Minn., Suzuki – 133 Points
4 Shane McElrath, Canton, N.C., Yamaha – 130 Points
5 RJ Hampshire, Hudson, Fla., Husqvarna – 128 Points
6 Cameron McAdoo, Sioux City, Iowa, Kawasaki – 109 Points
7 Justin Cooper, Cold Spring Harbor, N.Y., Yamaha – 102 Points
8 Jett Lawrence, Australia, Honda – 94 Points
9 Brandon Hartranft, Brick, N.J., KTM – 83 Points
10 Derek Drake, San Luis Obispo, Calif., – 69 Points