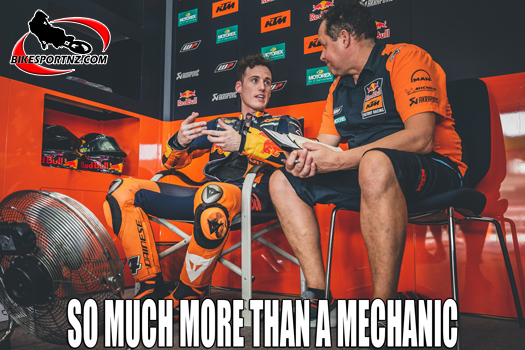 Last week we published part one of an interview with MotoGP spanner man Paul Trevathan and discovered that he is so much more than "just a Kiwi bike mechanic in Europe".
After initially working as mechanic for the factory Kawasaki motocross race team in Europe, helping to look after riders such as Stefan Everts and Tallon Vohland, Trevathan moved on to the MotoGP road-race scene and that's where he's now based.
The former Dunedin man, now living with his wife and their two children in Druten, in The Netherlands, is an extremely busy man, working as crew chief for the KTM factory team on the MotoGP scene.
With MotoGP on hold and the KTM race headquarters in Munderfing closed, Trevathan had to spend nearly four months in Coronavirus COVID-19 lockdown.
Then last week he learned his main rider, Spaniard Pol Espargaro, had received an offer and may be defecting from KTM to Honda in 2021, where Espargaro could be set to become Marc Marquez' team-mate in the Repsol Honda garage.
But Trevathan's focus clearly remains on what can be salvaged of the 2020 calendar.
"Our season should begin on July 19, in Jerez, in Spain, with limited personnel and no spectators" he said.
"The MotoGP scene will be chaos, for sure. Also, with the protocol that we have to follow health-wise, it won't be a lot of fun. Basically just track and hotel and staying away for three weeks, home for a week, and then off again for three weeks.
"The extra strain comes from being in those environments for that long, not so much the work. We normally only have one three-week run every year, and everyone is pumped when that is over, so to do three like that back-to-back for sure will lead to some tension inside the teams. That is something that I will need to handle delicately on my side of the box.
"I have a super team, but you know we are all from different countries and have all different ways to do things, so, in the end, just having to do things differently than you would normally annoys people, but I'm sure we will handle it."
With Espargaro possibly moving away from KTM, it raises a few questions for Trevathan.
"Pol and myself have a great relationship and we have become very good friends, so it will not be easy if he goes. You know, there is always the idea of should I go with him and normally it is not a hard choice.
"But things are different with KTM and I am really part of this project and a lot of me has gone into this bike and project and it would be nice to close the book completely. So the chance of a new rider (for me) to attend to, is high.
"Looking at going to another GP, I will start preparing at home for the GP from the Wednesday of the week before.
"First job is to sort out the gearbox that you want to run, then give that info to my electronic engineer so he/she can start preparing the start setting on the electronic side. Then I will go over the data from the next track from last year, check the chassis and suspension spec and prepare what ideas you want to try, then make the start spec for the two bikes and make the job list for the mechanics to follow.
"For a European race, I will leave home on Tuesday and Wednesday morning and we are all on the track. First to build up the pit boxes and then, in the afternoon, the mechanics will start to strip the bikes. I will have a technical meeting with my electronic and suspension engineers to make sure of what the latest developments are and to make sure I understand and agree with how they want to start.
"Thursday is the Michelin tyre meeting to discuss the compounds that they brought. I organise with my tyre guy what I want fitted for FP1 (free practice one) and FP2 and then it's time to have a meeting with Pol to discuss the plan.
"When the GP starts, its more about people management and reacting to the problems that you face, so a lot of talking, data checking and plan making.
"I travel home on the Monday, then it's report time, and again checking the reports from all the different groups to 'try' and
understand what I could have done better. Usually this is all done by the end of Tuesday, and then it starts all over again."
The workload sounds brutal, so would Trevathan recommend this lifestyle to young Kiwis looking to follow in his footsteps?
"For sure! I was very lucky to have been able to make a career out of my passion, and I have no regrets.
"It's not the easiest lifestyle and what you find is that there are two types of people in the paddock, ones who want to try it, see the amount of work that there is, and stay at it for two to three years, and then there are the 'lifers' who end up doing it for their whole working career.
"To be honest, what you need to do that is a very good and understanding partner and family, as they have to do without you for over 200 days a year, so this is perhaps the most challenging thing to find."
Kiwis have a sterling reputation within the MotoGP paddock. Right alongside Trevathan, fellow New Zealanders Mike Webb, Simon Crafar and Brent Stephens also occupy top posts in the sport.
Photos courtesy KTM Europe, Polarity Photo, Philip Platzer, Robert Gray and Darren Eagle.
Words by Andy McGechan, BikesportNZ
Find BikesportNZ.com on FACEBOOK here