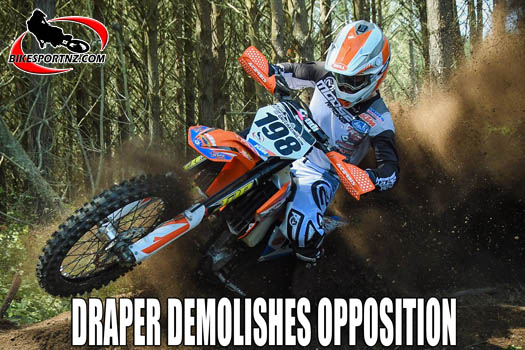 Just back from his second stint of racing in the United States and at the peak of his powers, there was no stopping Auckland's Liam Draper at the weekend.
The 23-year-old from Howick finished the 2019 Grand National Cross-country Championships (GNCC) in the US with an impressive ranking of No.5 in the XC2 (250cc) class, four places better than the ranking he achieved on debut there last year, and so when he showed up to race at the third and final round of the Dirt Guide Cross-country Series near Tokoroa on Saturday, he was immediately the clear favourite to win.
He didn't disappoint, snatching the lead early in the two-hour race and then rocketing to a commanding victory.
He said he was happy to be racing again in New Zealand and thrilled to have his first race on the new KTM 450SFX, a more potent bike than the 250cc model he'd been racing all season in the US.
"It was my first time out on the 450 and I loved every minute of it," said Draper.
"I took the lead (in the two-hour senior race) about three or four corners into the race and then pushed hard over the first lap to give myself a break over the chasing riders.
"After that I was riding by myself really and never saw another rider until I started getting among lapped riders. I arrived at the timing zone with three minutes still left on the two-hour clock and so I was sent away to complete another (23-minute) lap."
In the end, Draper was the only one of the 97 senior riders entered to complete six laps. His average lap time was more than a minute quicker than the man who eventually finished runner-up on Saturday, Reporoa's Hadleigh Knight (Honda CRF450X).
"This race was good practice for me. Once I was in the lead, I just concentrated on being consistent," said Draper.
He enjoyed catching up with his Kiwi mates at the weekend, although the US is where his short-term future lies.
"This year I was on a really good team in the US – the Tely Energy KTM Racing Team, based in South Carolina – with good people around me, but the season started off rough for me with three non-finishes. But I ended the year on a high with my first XC2 class win (achieved at the 11th round of 13 at Mt Morris, Pennsylvania, in September), which was my goal.
"I plan to do a few more events while I'm home in New Zealand … like the Dead Toad cross-country race in the Riverhead Forest (on December 1). I've won that race before, three years in a row actually. I didn't win there last year because I wasn't in New Zealand at the time, so hopefully I'll get the win again this year."
Draper is supported by Kendatire, KTM USA, Ridemps, Seat Concepts, IMS Products, Twin Air, Spectro Oils, Cometic Gasket, G2 Ergonomics, VP Racing fuels, ODI Grips, Senge Graphics, XC Ggear17, Tely Energy Racing, Evans Powersport, Official Moose Racing, Motionpro, Bell Powersports, Oakley, Eline Accessories, Mojo Motosport, TM Designworks, Forma Boots USA, Live It Extreme, JPD Suspension, Wickflow, Kiwi Rider magazine, BikesportNZ.com, Pod Active and Axle Surgeons.
© Words and photos by Andy McGechan, BikesportNZ.com
Find BikesportNZ.com on FACEBOOK here
Check back here on www.BikesportNZ.com during this week as we bring you more words and photos from the weekend.