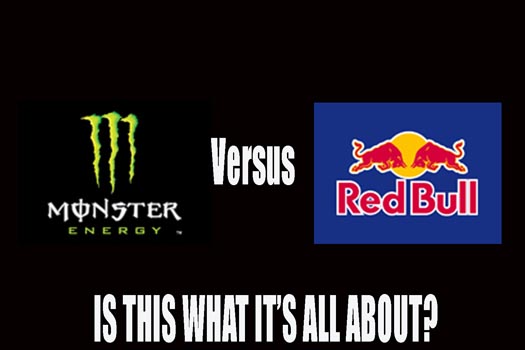 What seems on the surface to be a petty dispute over energy drink sponsor logos may be to blame for Team France self-destructing its own Motocross of Nations title defence this season.
Chasing what could be their sixth consecutive MXoN outright win at Assen, in The Netherlands, in three weeks' time, the French this week announced that MX2 rider Tom Vialle had been dropped from the squad, to be replaced by youngster Maxime Renaux.
It all came about over a dispute over Vialle's Red Bull KTM team logo and the Team France gear that will be worn at the Monster Energy-sponsored 2019 MXoN.
The French Federation has an issue with its riders wearing hats from their personal/team sponsors.
Vialle won his first overall in the FIM Motocross World Championship with 2-2 moto finishes at the MXGP of Sweden on August 25 – the sixth overall podium of the championship for him – and he has continued to impress in his rookie MX2 world championship season.
Vialle was named to the team to replace Dylan Ferrandis, who raced for the victorious French at the MXoN last year, after Ferrandis declined to participate in this year's event but Vialle will now longer make his MXoN debut this year.
Renaux currently sits seventh in the MX2 class of the FIM Motocross World Championship, where he has one overall podium of the year (MXGP of Italy).
It is not the first big change the French have made to their MXoN squad heading to Assen.
Last month, Jordi Tixier was named to the team after Romain Febvre sustained a broken femur at the MXGP of Sweden.
Tixier and Renaux will join the previously announced Gautier Paulin (MXGP) as Team France seeks a sixth straight Chamberlain Trophy on September 28 and 29 in Assen.
The president of the French Federation made this comment:
"I am really saddened by this situation, especially for Tom (Vialle), but for my part, I consider that the pilots must first wear the colours of France to the MXoN. Trademarks are necessary but they can't impose their diktat [sic] at the expense of national colours."
Vialle himself then responded on Instagram:
"Yes I will not ride at the MXON for a cap? To be precise, we are talking about some centimetre on the cap, but the French federation does not accept … the only one nations that not accept it !!! I'm very disappointed because I was motivated to ride at this race ? Thank you everybody for support ? Good luck to the rider!"
Find BikesportNZ.com on FACEBOOK here