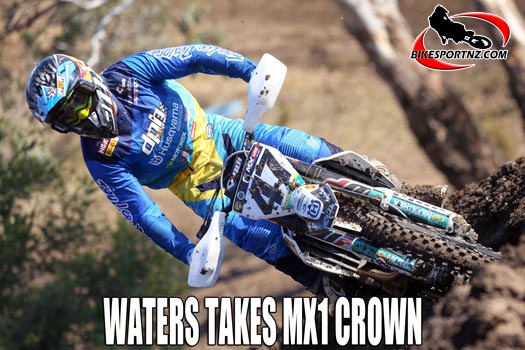 The 10th and final round of the 2019 Australian Motocross Nationals at Coolum saw DPH Husqvarna dominate proceedings with Todd Waters winning the MX1 class and Wilson Todd winning the MX2 title.
Raceline KTM Thor's Regan Duffy wrapped up the MX Development (Under-10) title, finishing ahead of New Zealand Yamaha star Maximus Purvis.
The MX1 class saw DPH Husqvarna's Waters dominate round 10, taking out a perfect weekend winning Superpole and both MX1 motos en route to the 2019 championship title.
Empire Kawasaki's Dylan Long raced to a season-best second overall with great starts, compiling 3-2 moto scores on the day, as Penrite Honda's Brett Metcalfe took third overall from 2-6 moto scores as a battle of inconsistency took place in the remaining top spots for MX1.
Second place in the MX1 championship, CDR Yamaha Monster Energy's Luke Clout struggled with 4-4 moto scores to finish off the podium on the round overall results.
Raceline KTM Thor's Hayden Mellross put in a spirited effort to maintain third in the Championship riding with a badly injured knee, after finishing 13th in moto one, a DNF from CDR Yamaha Monster Energy's Kirk Gibbs then allowed Mellross to sit out moto two as he was enough points clear of Gibbs in the championship to forfeit the second moto.
MX2 CLASS
The MX2 class saw DPH Husqvarna's Todd check out from the field winning moto one of the back-to-back motos.
Serco Yamaha's Nathan Crawford charged through the field to win the second back-to-back moto, with Penrith Pirelli CRF Honda Racing's Kyle Webster and Yamalube Yamaha's Jay Wilson both placing consistent finishes in the sprint motos to be in contention for the round overall heading into moto three.
Todd led early after the holeshot in moto three, but he eventually decided to play it safe as Webster showed great speed winning moto three with Wilson finishing in second. Webster won the overall from Todd, with Wilson third. In the championship, Todd reclaimed his No.1 plate from Webster in second and Wilson finishing the year third.
MX DEVELOPMENT (U19) CLASS
The MXD class would provide less drama than Saturday's round nine as Raceline KTM THOR's Regan Duffy led almost every lap of both motos on his way to the overall win and the championship No.1 plate.
WBR Bulk Nutrients Yamaha's Maximus Purvis challenged Duffy in second place for both motos on Sunday, however he did not have the speed to match his performances from Saturday, when the Kiwi hero from Mangakino had won both MXD motos.
Privateer Jai Walker landed his first career overall podium in third. In the MXD championship it was Duffy winning the title, from Purvis and Penrith Pirelli CRF Honda Racing's Rhys Budd in third.
RISING STAR ROOKIES
The Yamaha Rising Star Rookies class saw Yamaha's Alex Larwood dominate the weekend's races and take out the Championship. Ricky Chalmers and New Zealand's Cobie Bourke finished round 10 second and third overall, while the Championship podium had Larwood first, Brad West second and Cameron Torpy third.
125cc GOLD CUP
The Yamaha 125cc Gold Cup saw WA's Luke Davis win the round, followed by Lachlan Wilson and Yamaha's Cameron Taylor. In the series Championship, Taylor again won the series, with Nicholas Murray and Lachlan Wilson finishing second and third respectively.
YAMAHA 65 CUP
The Yamaha 65 Cup exhibited the next generation of Yamaha-only Australasian motocross talent with New Zealand rider Levi Townley taking the win from Marcus Nowland, with another Kiwi, Lachie McLaren, rounding out the podium.
Photo courtesy MX Nats
Find BikesportNZ.com on FACEBOOK here
FINAL 2019 STANDINGS:
MX1 Championship Standings:
1 Todd Waters 568 Points
2 Luke Clout 530 Points
3 Hayden Mellross 462 Points
4 Kirk Gibbs 435 Points
5 Brett Metcalfe 432 Points
6 Justin Rodbell 373 Points
7 Richie Evans 372 Points
8 Jesse Dobson 360 Points
9 Dylan Long 325 Points
10 Jayden Rykers 300 Points
MX2 Championship Standings:
1 Wilson Todd 562 Points
2 Kyle Webster 536 Points
3 Jay Wilson 523 Points
4 Nathan Crawford 492 Points
5 Aaron Tanti 460 Points
6 Dylan Wills 394 Points
7 Bailey Malkiewicz 387 Points
8 Ricky Latimer 360 Points
9 Cooper Pozniak 345 Points
10 Morgan Fogarty 327 Points
MXD (U19) Championship Standings:
1 Regan Duffy 593 Points
2 Maximus Purvis 561 Points
3 Rhys Budd 472 Points
4 Noah Ferguson 435 Points
5 Brodie Ellis 419 Points
6 Jai Walker 411 Points
7 Liam Walsh 389 Points
8 Jayce Cosford 384 Points
9 Mackenzie O'Bree 346 Points
10 Tye Jones 337 Points