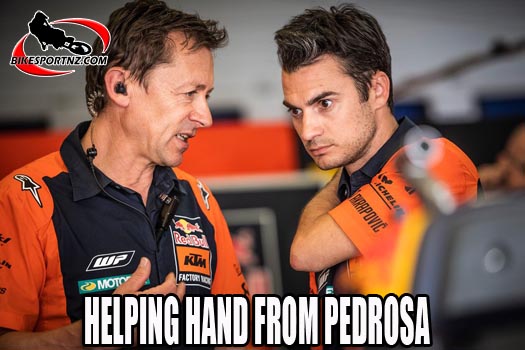 Former Grand Prix winner and world champion Dani Pedrosa will be able to lend his vast experience and skills to the Red Bull KTM MotoGP effort from next month.
This comes after some test laps at Mugello this week confirmed the Spanish rider's collarbone injury had healed sufficiently.
The 33-year-old Pedrosa was present in the Red Bull KTM pitbox at the Circuito de Jerez-Angel Nieto for round four of the 2019 series almost two weeks ago and then took his first laps on the development KTM RC16 at Mugello, Italy last week as part of a private test.
The Spaniard, who spent 13 years in MotoGP and who retired from full-time racing at the end of 2018, had successfully recovered from a stress fracture of the right collarbone and was able to complete several circulations of the fast and demanding track that will host the Gran Premio D'Italia on June 2nd.
After a positive reaction to the outing, Pedrosa will begin testing for the factory in June.
Mike Leitner, Red Bull KTM Team Manager: "It was very positive and also quite exciting to see Dani riding at Mugello and able to make those laps. It means his shoulder recovery has gone well and he is almost ready to start his new job for us. We can all see how close MotoGP is in 2019 so far and how high the level is now, so to have Dani's experience and his knowledge coming into the team and to the technicians back in the factory will only help us even more."
Photo courtesy KTM Europe
Find BikesportNZ.com on FACEBOOK here