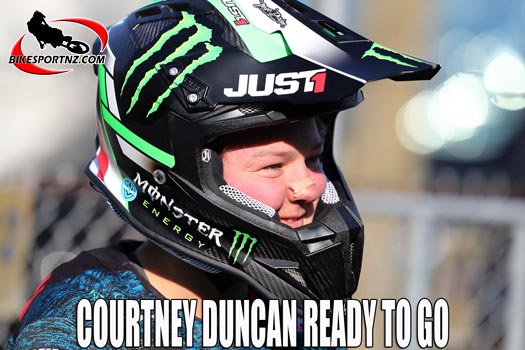 Just days after the FIM Motocross World Championship took on Mantova, the series now heads west to the Iberian Peninsula for this weekend's 2019 MXGP of Portugal.
This sixth round of the MXGP season will return to Agueda for the third season in row and will include the FIM Women's Motocross World Championship event in the programme, featuring of course New Zealand's Courtney Duncan (pictured here).
The past two years have provided Portuguese fans with plenty to cheer for and as a rider favourite this weekend will once again roar with both bikes and spectators. Situated between Portugal's two largest cities, Lisbon and Porto, the city of Agueda will see the world best motocross riders descend on its soil for racing this Saturday and Sunday including the riders of the FIM Women's Motocross World Championship and FIM Europe's EMX2T championship.
The Women's World Championships are led by Belgium's Amandine Verstappen after taking the opening round win of 2019 at Valkenswaard, in the Netherlands, in March.
Verstappen will, however, face heavy competition such as Nancy van de Ven and Larissa Papenmeier but BIKE IT DRT Kawasaki's Kiwi star Courtney Duncan may be the biggest threat.
Duncan's speed was evident as she took the dominant race one win in the Netherlands, before crashing hard while leading in race two, resulting in her finishing the weekend fourth overall.
"I hadn't raced for nine months (before the Dutch GP in March) and I'd only been with my new team for four days and we had just one day to practice in sand before we arrived at Valkenswaard," said Duncan.
"It was so great to win my first race on the Kawasaki; I've got to give it to the guys at Bike It DRT Kawasaki, Kawasaki Motors Europe, Kawasaki New Zealand and Monster Energy for showing their faith and giving me this opportunity.
"I love the Kawasaki. I rode a stock bike first and I already had a really good feeling; I like the way the KX250F handles, the way it turns and obviously the team prepared me a very good bike."
WMX Championship Top Five:
Amandine Verstappen (BEL, YAM) 44 points; 2. Nancy van de Ven (NED, YAM) 43 p; 3. Larissa Papenmeier (GER, YAM) 40 p; 4. Courtney Duncan (NZ, KAW) 39 p; 5. Shana van der Vlist (NED, KTM) 34 p.
MXGP CLASS
KTM was dominant in Mantova last week and heading into this weekend in Portugal momentum is on their side. MXGP points leader Antonio Cairoli from Red Bull KTM Factory Racing rode a nearly flawless Mantova race to take 50 points home despite the challenging conditions while his title competitor Tim Gajser from Team HRC's struggled with one mistake after another.
Cairoli's track record here is also in his favour winning the GP on five previous occasions with the most recent Portuguese win being in 2017.
Racing here 12 times 11 of them resulted in a podium with his worst result being 5thway back in 2004. Gajser however has only race here the past two seasons scoring 6th in 2017 and 3rd last year.
MXGP saw a new podium finisher in Mantova, Italy in the form of rookie Pauls Jonass from the Rockstar Energy Husqvarna. Jonass' second place performance turned many heads in what was only his 5th career MXGP race which is even more surprising after a difficult winter due to injury. Jonass has been slowly adjusting to the 450 machine and regaining his fitness as the season progresses. The Latvian also raced here the past two seasons, but both were in MX2 where he finished 2nd and 5th.
Monster Energy Wilvo Yamaha MXGP's Gautier Paulin made his third podium appearance of 2019 in Mantova but appeared to feel he was capable of much better.
Paulin seems to be continually improving as he gains confidence as comfort with his new machine. With his new confidence in both the bike and himself the Frenchman will be looking for a breakout rode in Agueda before heading to his home GP a week later. While the past two years have resulted in 12th he took MXGP overall at this venue in 2013.
Jonass' Rockstar Energy Husqvarna team-mate Arminas Jasikonis currently holds 4th in the MXGP Championship as a result of his consistently strong rides so far this season. Jasikonis has had to work forward through the pack in the past several rounds of racing but if he can snag a good start in Agueda expect to see the Lithuanian on the podium.
Additional riders to keep an eye on are the Standing Construct KTM boys of Max Anstie, Ivo Monticelli and Glenn Coldenhoff plus the Belgians; Monster Energy Kawasaki Racing Team's Clement Desalle and Honda SR Motoblouz's Jeremy Van Horebeek.
Anstie and Monticelli suffered bad luck while riding strong in Mantova adding to their fire and determination this weekend while Coldenhoff scored his first top five of the year last time out. As for the Belgian's both Desalle and Van Horebeek are question mark while they mend from surgery during the break following Trentino.
Notable also that Monster Energy Yamaha Factory MXGP's Romain Febvre returns to racing this weekend in Agueda after he sufferedn a broken ankle at the first stop of the 2019 FIM Motocross World Championship in Patagonia-Argentina.
MXGP Championship Top Ten:
Antonio Cairoli (ITA, KTM), 241 points; 2. Tim Gajser (SLO, HON), 201 p.; 3. Gautier Paulin (FRA, YAM), 175 p.; 4. Arminas Jasikonis (LTU, HUS), 146 p.; 5. Clement Desalle (BEL, KAW), 142 p.; 6. Jeremy Seewer (SUI, YAM), 124 p.; 7. Jeremy Van Horebeek (BEL, HON), 118 p.; 8. Pauls Jonass (LAT, HUS), 109 p.; 9. Shaun Simpson (GBR, KTM), 100 p.; 10. Glenn Coldenhoff (NED, KTM), 94 p.
MX2 CLASS
MX2 points leader Thomas Kjer Olsen from Rockstar Energy Husqvarna Factory Racing lost a handful of points in Italy while Red Bull KTM Factory Racing's Jorge Prado continued his dominant and undefeated record. Prado heads to Portugal now seven points down but as they double race winner last year both history and momentum are on his side to reclaim the red plate this Sunday.
Although Olsen lost points prior to this week his situation could have been much worse after starting outside the top 20 last weekend. In the bigger picture Olsen's fight through the carnage and podium result last week could perhaps be championship defining later in the season. Racing in the Portuguese GP the past 2 seasons TKO performed well scoring 4th in 2017 and 2nd last year.
While Olsen managed to salvage his weekend F&H Racing Kawasaki's Henry Jacobi lost out to the Mantova madness. The German rode exceptionally well trying lines no one else dared and gaining ground in the process. Luck wasn't on Jacobi's side when all was said and done though as a mechanical issue took him out of the race.
Another rider looking to rebound this week is Red Bull KTM Factory Racing's Tom Vialle who crashed out of qualifying before again facing misfortune in race one at Mantova. The rookie Frenchman's response to adversity will be interesting to watch as he takes on Agueda for the first time in MX2.
Riders looking to keep momentum on their side this week include Team DIGA Procross' Davy Pootjes who scored his first ever MX2 podium last week after 4 years in the category and rookie Mitch Evans from Honda 114 Motorsports after scoring fourth overall in Mantova following a charge from outside the top 20 through the field.
Another rider to keep in mind is Rockstar Energy Husqvarna Factory Racing's Jed Beaton. Beaton was fast in Mantova putting in some of the quickest laps in MX2 but a crash hindered his results, more notably though is the podium he achieved here last season which was, and for now still is, only the second of his career.
MX2 Championship Top Ten:
Thomas Kjer Olsen (DEN, HUS), 207 points; 2. Jorge Prado (ESP, KTM), 200 p.; 3. Henry Jacobi (GER, KAW), 157 p.; 4. Jago Geerts (BEL, YAM), 150 p.; 5. Ben Watson (GBR, YAM), 145 p.; 6. Tom Vialle (FRA, KTM), 141 p.; 7. Calvin Vlaanderen (NED, HON), 122 p.; 8. Mitchell Evans (AUS, HON), 117 p.; 9. Davy Pootjes (NED, HUS), 112 p.; 10. Adam Sterry (GBR, KAW), 105 p.
Photo courtesy Kawasaki Europe
Find BikesportNZ.com on FACEBOOK here