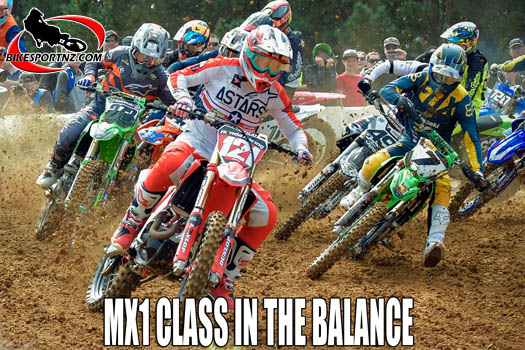 The 2019 New Zealand Motocross Championships wrap up in Taupo this coming weekend with plenty still at stake, particularly in the premier MX1 class.
The intense Australia versus Kiwi rivalry in this year's Fox-sponsored national series has provided extra bite to the competition and perhaps no more so that in the MX1 class, where Mount Maunganui's six-time former champion Cody Cooper enjoys a slim three-point advantage over the defending champion, Australia's Kirk Gibbs, as they head to Taupo's Digger McEwen Motocross Park for the final showdown on Sunday.
Hamilton's Kayne Lamont holds onto the third spot overall in the series standings and his performance at Taupo on Sunday could be crucial – the former Mangakino man a former MX1 class winner in major events at the Taupo track and almost certain to be closer to the front of the pack on Sunday.
If Lamont gets between the duelling Cooper and Gibbs, then the points calculations could fly out the window.
Cooper finished with a 1-1-2 score-card in the three MX1 races at the previous round at Pukekohe, while Gibbs finished 2-2-1, the two men between them sharing the wins just as they had at the earlier rounds.
"I felt good in the last race (at Pukekohe) and put myself in a good position, but I guess I should have put some fresh rubber on the bike," lamented Cooper.
"I'm gutted actually. The tyre was good for the first two races, but I should have put a new rear tyre on before that last race.
"Hey, I'm having little problems like this and I'm still leading the series, so I'm happy about that.
"I'm just looking forward to having no problems and getting a clean sweep. I'm looking forward to Taupo. I ride well there."
In was a fierce Kiwi versus Aussie battle in the MX2 (250cc) class too, with defending champion Hamish Harwood, from West Auckland, coming under fire from visiting Australians Wilson Todd and Kyle Webster at the previous rounds, with another Australian, Morgan Fogarty, also among the top five.
But the Australian threat has been dulled somewhat with Todd crashing and injuring himself at Pukekohe's third round of the series two weeks ago, seeing him score no points in two races that day.
The Aussie threat was further diminished, too, with Webster returning home, as he had planned.
Webster had only ever intended to contest rounds two and three in New Zealand this season and – even though he won two of the six races he did enter and finished no worse than third in the others – Webster's abbreviated campaign meant he really had no chance of challenging Harwood for the title.
Mangakino's Maximus Purvis has taken over the second position in the standings and he is now Harwood's greatest threat, but Purvis is a whopping 35 points behind the Aucklander with just three MX2 races to come at Taupo.
In the 125cc class battles, dual-class ironman Harwood has been dominant, winning all nine races in the three rounds thus far. Battling over the runner-up spot are former national 125cc champion Ben Broad, from Ngatea, and Rotorua's Josh Bourke-Palmer, Broad ahead of Bourke-Palmer by just three points as they line up at Taupo.
This weekend's final round of the Fox 2019 New Zealand Motocross Championships is additionally supported by Yamalube.
The series is sponsored by FOX Racing NZ, Suzuki NZ, Yamaha NZ, Blue Wing Honda, Aon Insurance, ICG Print and Pirelli.
© Words and photos by Andy McGechan, BikesportNZ
Find BikesportNZ.com on FACEBOOK here
Leading standings after three of four rounds:
MX1 class: 1. Cody Cooper (Mt Maunganui) 213 points; 2, Kirk Gibbs (Australia) 210; 3. Kayne Lamont (Hamilton) 180; 4. Brad Groombridge (Taupo) 151; 5. Cohen Chase (Taupo) 130; 6. Blake Gillard (Beachlands) 122; 7. Roydon White (Tauranga) 104; 8. Jacob Steel (Te Awamutu) 103; 9. Hadleigh Knight (Reporoa) 94; 10. Sam Guise (Taupo) 90.
MX2 class: 1. Hamish Harwood (Royal Heights) 198 points; 2. Maximus Purvis (Mangakino) 163; 3. Wilson Todd (Australia) 153; 4. Wyatt Chase (Taupo) 142; 5. Brad Groombridge (Taupo) 139; 6. Morgan Fogarty (Australia) 133; 7. Kyle Webster (Australia) 132; 8. Ethan Martens (Auckland) 101; 9. Sam Cuthbertson (Dunedin) 88; 10= Kyle Hartley (Winton) and Broc Martens (Waitakere) 86.
125cc class: 1. Hamish Harwood (Royal Heights) 225 points (maximum); 2. Ben Broad (Ngatea) 168; 3. Joshua Bourke Palmer (Rotorua) 165; 4. Tommy Watts (Wairoa) 159; 5. Scott Barr-Smith (Tauranga) 129; 6. Jack Dunlop (Pukekawa) 126; 7. Clayton Roeske (Nelson) 102; 8. Charlie Richardson (Eketahuna) 91; 9. Carlin Hedley (Otorohanga) 79; 10. Reece McBride (Westport) 77.
Under-19: 1. Maximus Purvis (Mangakino) 211 points; 2. Morgan Fogarty (Australia) 198; 3. Reef Wheki (Hamilton) 168.