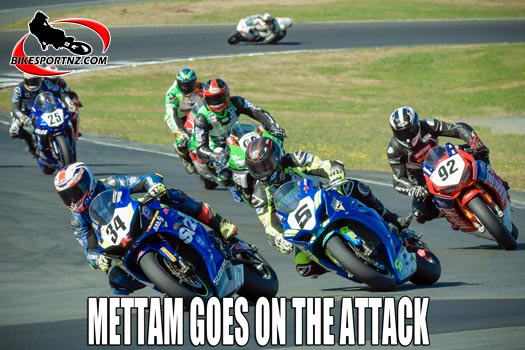 There was plenty to demand the attention of motorcycle enthusiasts at Hampton Downs at the weekend, but the serious business of national championship competition refused to take a back seat to any of the other distractions, fantastic though they were.
The third round of five in this season's New Zealand Superbike Championships shared the programme and track space with the second annual MotoFest extravaganza on Saturday and Sunday and, if all that didn't get the adrenaline flowing, then perhaps nothing would.
MotoFest promised and delivered excellence on all fronts, with well-respected identities from all segments of the motorcycle sporting world coming together for a spectacular two days of action, the superbike nationals taking centre stage and the premier 1000cc superbike class commanding much of that spotlight.
Taupo's Scott Moir led the class at the start of the weekend and he managed to slightly strengthen his grip on the top spot despite failing to finish the first of the weekend's three superbike races.
He responded to that disaster by finishing first and second in the next two superbike races and this ranked him second overall for the day and ensured he maintained his series lead.
Glen Eden's Daniel Mettam came on strong at Hampton Downs, dominating the superbike class with a 1-2-1 score-card over the weekend, and this saw him rise up from fifth to second in the championship standings.
The weekend's third race was also designated as the TT Trophy race for the superbike class and so winning that was icing on the cake for Mettam.
Christchurch's Alastair Hoogenboezem had been second in the superbike class standings after round two, but his mixed bag 2-8-5 score-card at Hampton Downs saw him slip back to third overall.
In the Supersport 600 class, Manukau's Toby Summers again impressed, finishing 1-1-2 over the weekend, although he did express disappointment at being beaten right at the finish line in the last 600cc outing by his nearest championship rival, Rangiora's Avalon Biddle.
As with the superbike class, the weekend's third Supersport 600 race was also doubly significant in that it qualified as the TT Trophy race for the class, Biddle obviously overjoyed to collect that prized silverware.
Biddle has kept strong her challenge for the national Supersport 600 title, but she is now 22 points behind Summers and will need some solid results at the two rounds that now follow.
Other class leaders after the weekend are Palmerston North's Jacob Stroud (Supersport 300 class); Papamoa's Leon Jacobs (250 Production class); Jacob Stroud (Superlites); Christchurch's Nick Cain (650 Pro Twins, provisional); Australia's Yanni Shaw (125 GP); Hamilton's Jesse Stroud (GIXXER Cup) and Christchurch's Dennis Charlett and Will Clim (sidecars).
Other TT Trophy winners on Sunday were Auckland's Nathanael Diprose (Supersport 300 class); Jacobs (250 Production class); Jacob Stroud (Superlites); Whangamata's Ben Rosendaal (650 Pro Twins, provisional); Shaw (125 GP); Jesse Stroud (GIXXER Cup) and Auckland's Peter Goodwin and Waitoki's Louise Blythe (sidecars).
Motorcycling New Zealand road-racing co-commissioner Grant Ramage said the weekend was "an awesome event, with great weather and a huge crowd".
"Racing in all the classes was super close, the TT race in the superbike class, in particular, was exciting.
"The racing is just going to get hotter too. The next round is at Manfeild, where we have not been for a couple of years with the nationals, and then on to Taupo. I'm looking forward to it."
The 2019 New Zealand Superbike Championships' fourth round at Manfeild is set for March 30-31, with the series wrapping up at Taupo on April 6-7.
Kiwi MotoGP commentator Simon Crafar was a featured guest at MotoFest, appearing alongside Australian MotoGP and World Superbikes identity Chris Vermeulen, former British champion and team manager Steve Parrish, Kiwi former World Superbike Championship contender Aaron Slight and fellow New Zealand legends Hugh Anderson, Ginger Molloy, Graeme Crosby and Richard Scott.
MotoFest also featured the Mike Pero Shoei GP, Post Classic racing, the Motul Moto Trials Challenge, Legends Track Sessions, Kawasaki Trail Ride and also included the Star Insurance Bike Show and the Alpinestars Legends Dinner on Saturday night. For the first time, ACC's Shiny Side Up Bike Fest was also run in conjunction with MotoFest.
The 2019 New Zealand Superbike Championships are supported by DHL Express New Zealand Ltd (DHL), Suzuki New Zealand, Yamaha Motor New Zealand, Carl Cox Motorsport, ICG Print, Honda New Zealand, Pirelli, Resene Automotive and Light Industrial, CTAS, MX Timing, BikeRider magazine, Trust Aoraki and Timaru District Council. Suzuki also supports the GIXXER Cup.
2019 NZ Superbike Championships calendar:
Round 1 – January 5-6, Mike Pero Motorsport Park, Christchurch;
Round 2 – January 12-13, Levels International Raceway, Timaru;
Round 3 – March 2-3, Hampton Downs Motorsport Park, North Waikato, Mike Pero MotoFest;
Round 4 – March 30-31, Circuit Chris Amon, Manfeild;
Round 5 – April 6-7, Bruce McLaren Motorsport Park, Taupo.
© Words and photo by Andy McGechan, BikesportNZ
Find BikesportNZ.com on FACEBOOK here
Check back here on www.BikesportNZ.com during this week as we bring you more words and photos from the weekend.