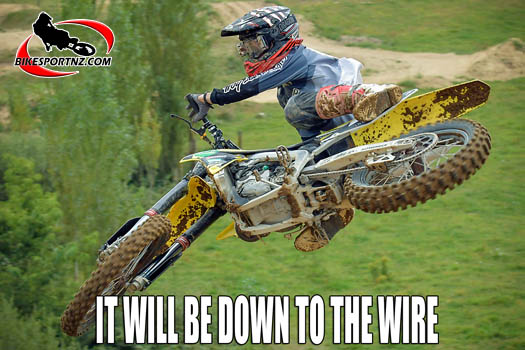 It is just days away now before the silverware will be handed out the fourth and final round of the 2019 New Zealand Motocross Championships.
Taupo's Digger McEwen Motocross Park will host what is expected to be pretty fierce race action this coming Sunday, with the MX1 class in particular going right down to the wire.
Just three points separate series leader Cody Cooper from defending champion Kirk Gibbs in this premier class.
Meanwhile, perhaps the only thing that can stop Hamish Harwood from successfully defending his MX2 (250cc) crown is himself … or maybe a dose of bad luck.
He is 35 points ahead of the number two man in the class, Maximus Purvis, with Australian Wilson Todd 10 points further back.
Dual-class rider Harwood is even further in front in the 125cc class, with former national 125cc champion Ben Broad 57 points behind and Rotorua's Josh Bourke-Palmer in close company, just three points further back.
Leading standings after three of four rounds:
MX1 class: 1. Cody Cooper (Mt Maunganui) 213 points; 2, Kirk Gibbs (Australia) 210; 3. Kayne Lamont (Hamilton) 180; 4. Brad Groombridge (Taupo) 151; 5. Cohen Chase (Taupo) 130; 6. Blake Gillard (Beachlands) 122; 7. Roydon White (Tauranga) 104; 8. Jacob Steel (Te Awamutu) 103; 9. Hadleigh Knight (Reporoa) 94; 10. Sam Guise (Taupo) 90.
MX2 class: 1. Hamish Harwood (Royal Heights) 198 points; 2. Maximus Purvis (Mangakino) 163; 3. Wilson Todd (Australia) 153; 4. Wyatt Chase (Taupo) 142; 5. Brad Groombridge (Taupo) 139; 6. Morgan Fogarty (Australia) 133; 7. Kyle Webster (Australia) 132; 8. Ethan Martens (Auckland) 101; 9. Sam Cuthbertson (Dunedin) 88; 10= Kyle Hartley (Winton) and Broc Martens (Waitakere) 86.
125cc class: 1. Hamish Harwood (Royal Heights) 225 points (maximum); 2. Ben Broad (Ngatea) 168; 3. Joshua Bourke Palmer (Rotorua) 165; 4. Tommy Watts (Wairoa) 159; 5. Scott Barr-Smith (Tauranga) 129; 6. Jack Dunlop (Pukekawa) 126; 7. Clayton Roeske (Nelson) 102; 8. Charlie Richardson (Eketahuna) 91; 9. Carlin Hedley (Otorohanga) 79; 10. Reece McBride (Westport) 77.
Under-19 class: 1. Maximus Purvis (Mangakino) 211 points; 2. Morgan Fogarty (Australia) 198; 3. Reef Wheki (Hamilton) 168.
© Words and photos by Andy McGechan, BikesportNZ.com
Find BikesportNZ.com on FACEBOOK here
Check back here on www.BikesportNZ.com during this week as we bring you more build-up to the big weekend.