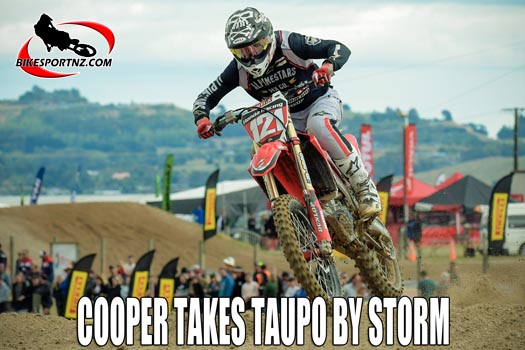 Bay of Plenty's Cody Cooper became the New Zealand MX1 motocross No.1 for a seventh time on Sunday after a thrilling day of edge-of-the-seat racing in Taupo.
The action was close throughout Sunday's race action at this fourth and final round of the Fox-sponsored New Zealand Motocross Championships at Taupo's Digger McEwen Motocross Park, but Mount Maunganui's Cooper eventually prevailed in the premier MX1 class, winning the 2019 title ahead of Australian invader Kirk Gibbs, the defending 2018 New Zealand champion from Australia.
Cooper enjoyed a slim three-point advantage in the MX1 class over defending champion Gibbs at the start of the day at Taupo and, after Cooper and Gibbs had shared the wins in the first two of three MX1 races on Sunday, the difference between the pair was still only three points.
In a cliff-hanger final scenario that could possibly not have been better scripted, it transpired that whomever won the series' third and final clash would take the title.
Gibbs had the jump on Cooper at the start of this deciding MX1 race, but Cooper was on fire and soon closing in on race leader Gibbs, dramatically snatching the lead on the third lap of 11.
Cooper never looked back from there, eventually winning this crucial third race by an impressive 10 seconds from Gibbs and clinching the premier motocross title for 2019.
Gibbs finished second overall, six points behind Cooper, while Hamilton's Kayne Lamont grabbed the third podium spot.
Also, as was probably expected, West Auckland-based former Takaka man Hamish Harwood wrapped up both the MX2 (250cc) and MX125 titles on Sunday.
Mangakino's Maximus Purvis held the second position in the MX2 standings at the start of the day at Taupo, albeit a long way behind Harwood, but mechanical failure in the day's second MX2 race cost him dearly and it was Taupo's Wyatt Chase who instead swooped in to take advantage and snatch away the No.2 position for the series, with Purvis eventually relegated to third.
Another Australian visitor, Morgan Fogarty, benefitted from Purvis' demise in race two to claim the MX2 battle-within-a-battle for under-19 age group honours, winning that ahead of Purvis and Hamilton's Reef Wheki.
In the 125cc class battles, dual-class ironman Harwood was simply unstoppable.
He won all 12 of the 125cc races in this series and easily took the crown ahead of former national 125cc champion Ben Broad, from Ngatea, with Rotorua's Josh Bourke-Palmer settling for third overall.
"It was a fantastic series," said Motorcycling New Zealand motocross commissioner Ray Broad.
"The highlight for me was Cody Cooper coming back in that last race, to close out the New Zealand versus Australia combat. Cooper did us proud. If Cooper had not won that last race, then Gibbs would have had the title on a count-back.
"To see the crowd getting up and cheering him on and seeing the people hanging over the fencing, then you know you've got something special happening.
"A huge congratulations too to Hamish Harwood. What a star he is. He's won the MX2 class on a two-stroke and now he's done it on a four-stroke, then to win all 12 of the 125cc class races as well, taking his first 125cc crown. What a performance.
"Overall, we are really pleased with all the host clubs. They have all stepped up this year."
Fogarty won the MX2 class battle-within-a-battle for Under-19 age group honours, finishing the series ahead of Purvis, with Hamilton's Reef Wheki third.
The weekend's final round of the Fox 2019 New Zealand Motocross Championships was additionally supported by Yamalube.
The series was sponsored by FOX Racing NZ, Suzuki NZ, Yamaha NZ, Blue Wing Honda, Aon Insurance, ICG Print and Pirelli.
© Words and photo by Andy McGechan, BikesportNZ
Find BikesportNZ.com on FACEBOOK here
NZ Motocross Champs leading final standings:
MX1 class: 1. Cody Cooper (Mt Maunganui) 285 points; 2, Kirk Gibbs (Australia) 279; 3. Kayne Lamont (Hamilton) 233; 4. Cohen Chase (Taupo) 186; 5. Blake Gillard (Beachlands) 166; 6. Brad Groombridge (Taupo) 151; 7. Hadleigh Knight (Reporoa) 141; 8. Roydon White (Tauranga) 139; 9. Sam Guise (Taupo) 130; 10. Jacob Steel (Te Awamutu) 129.
MX2 class: 1. Hamish Harwood (Royal Heights) 265 points; 2. Wyatt Chase (Taupo) 214; 3. Maximus Purvis (Mangakino) 203; 4. Morgan Fogarty (Australia) 177; 5. Brad Groombridge (Taupo) 157; 6. Wilson Todd (Australia) 153; 7. Ethan Martens (Auckland) 150; 8. Kyle Webster (Australia) 132; 9. Kyle Hartley (Winton) 127; 10. Sam Cuthbertson (Dunedin) 122.
125cc class: 1. Hamish Harwood (Royal Heights) 300 points (maximum); 2. Ben Broad (Ngatea) 234; 3. Joshua Bourke Palmer (Rotorua) 221; 4. Tommy Watts (Wairoa) 215; 5. Jack Dunlop (Pukekawa) 172; 6. Scott Barr-Smith (Tauranga) 143; 7. Charlie Richardson (Eketahuna) 116; 8. Ethan Waters (Nelson) 113; 9. Cam Dillon (Kinloch) 111; 10. Joseph Andrell (Auckland) 103.
Under-19: 1. Morgan Fogarty (Australia) 260 points; 2. Maximus Purvis (Mangakino) 258; 3. Reef Wheki (Hamilton) 222.
Full story and more photos in your next issue of KIWI RIDER magazine.
Check back here on www.BikesportNZ.com during this week as we bring you more words and photos from the weekend.