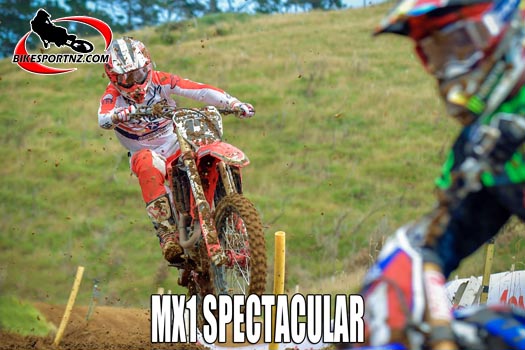 With plenty of talented riders, all armed with 450cc beasts, the MX1 class racing at the weekend was always going to be a thriller … and it certainly was that.
Round one of the 2019 Fox New Zealand Motocross Champs in Taranaki on Sunday had it all – the 125cc class, the MX2 class and the premier MX1 class as well – and it was edge-of-the-seat racing throughout.
Fast Turkey Video produced several items for BikesportNZ.com from the weekend's racing at the Barrett Road Motocross Park, on the outskirts of New Plymouth, and here is the MX1 class highlights package.
The 2019 Fox New Zealand MX Championships calendar:
Round 1 – Sunday, February 3 – Taranaki
Round 2 – Sunday, February 17 – Rotorua
Round 3 – Sunday, February 24 – Pukekohe
Round 4 – Sunday, March 10 – Taupo
© Videography by Darren Eagle
© Photo by Andy McGechan, BikesportNZ
Find BikesportNZ.com on FACEBOOK here