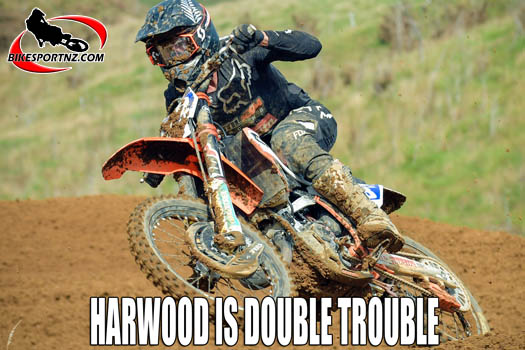 West Auckland's Hamish Harwood is fighting a war on two fronts again this season and, so far at least, he's winning them both.
The former Takaka man, who now lives in Royal Heights, Auckland, dominated both the MX2 (250cc) and 125cc classes at the first of four rounds in this year's Fox New Zealand Motocross Championships in Taranaki just over a week ago and he'll head to round two near Rotorua this weekend hoping to cement his position in both categories.
The 23-year-old builder had his work cut out in the MX2 class with on-form Mangakino rider Maximus Purvis and current Australian MX2 champion Wilson Todd piling on the pressure, while riders such as Taupo's Brad Groombridge, Oamaru's Joel Meikle and Taupo's Wyatt Chase also challenged.
Harwood's 2-2-1 score-card in his three MX2 class races in Taranaki gave him a nine-point advantage over Todd (8-1-2) and Purvis (1-6-3) – these two riders settling for equal second after this opening round – and Harwood was even more devastating in the 125cc class.
Harwood scored a hat-trick of wins in the 125cc class in Taranaki, while Tauranga's Brodie Connolly and Ngatea's Ben Broad fought over the No.2 position.
However, the 125cc class rankings will have a reshuffle at Rotorua on Sunday, with news that Connolly has now sidelined himself following a crash just last weekend.
If Harwood can continue on and win the MX2 crown again this season, it will be the fourth year in a row that he has ruled this division in New Zealand.
Harwood has also won national junior titles in the past, securing the junior 14-16 years' 250cc title in New Zealand in 2011 and the Australian 150cc title that same year. Harwood also won the Australian Motocross Development (Under-19) class title in 2013.
Meanwhile, the racing in Taranaki was also tight in the MX1 class, with Mount Maunganui's Cody Cooper eventually getting the edge over Australian Kirk Gibbs – the man from Queensland the defending New Zealand MX1 champion – and Hamilton-based former Mangakino rider Kayne Lamont.
The 35-year-old Cooper is a six-time former New Zealand MX1 champion and he is determined to win the title back this season. He seems to be on target, but he enjoys only a modest three-point lead over Gibbs at the start of this Sunday's racing near Rotorua.
Cooper will be taking nothing for granted – there was little to separate Cooper from either Gibbs or Lamont on the timing sheets at Taranaki.
Gibbs was the overall winner on the day at the Rotorua track last season, so race fans might expect the action to be fast and furious again this Sunday.
It's interesting to note that Groombridge –  a two-class ironman like Harwood – finished the day fourth overall in the MX1 class in Taranaki and he was also fourth overall in the MX2 class.
Motorcycling New Zealand motocross commissioner Ray Broad said the championships were shaping up to be a great Kiwi versus Aussie battle.
"We have Cody Cooper battling Kirk Gibbs in the MX1 class and Hamish Harwood battling Wilson Todd in the MX2 class and I think this weekend at Rotorua is going to be a pivotal event," he said.
"I hope the spectators take advantage of the great weather that's forecast for Sunday and they turn out in numbers.
"The under-19 category is also included in the programme for Rotorua and this new initiative offers additional reward for the younger riders in the MX2 class."
Round three of the 2019 Fox New Zealand Motocross Championships is set for Pukekohe on February 24 and, finally, the nationals wrap up at Taupo on March 10.
Round one of the series was additionally supported by Mach 1 Yamaha, while Patterson O'Connor Motorcycles supports round two, Ebbett Pukekohe supports round three and Yamalube supports round four.
Leading standings after round one:
MX1 class: 1. Cody Cooper (Mt Maunganui) 72 points; 2. Kirk Gibbs (Australia) 69; 3. Kayne Lamont (Hamilton) 60; 4. Brad Groombridge (Taupo) 51; 5. Cohen Chase (Taupo) 48.
MX2 class: 1. Hamish Harwood (Royal Heights) 69 points; 2. Wilson Todd (Australia) 60; 3. Maximus Purvis (Mangakino) 60; 4. Brad Groombridge (Taupo) 51; 6. Wyatt Chase (Taupo) 46.
125cc class: 1. Hamish Harwood (Royal Heights) 75; 2. Brodie Connolly (Tauranga) 66; 3. Ben Broad (Ngatea) 60; 4. Joshua Bourke Palmer (Rotorua) 52; 5. Tommy Watts (Wairoa) 47.
Under-19: 1. Maximus Purvis (Mangakino); 2. Morgan Fogarty (Australia); 3. Reef Wheki (Hamilton).
© Words and photo by Andy McGechan, BikesportNZ
Find BikesportNZ.com on FACEBOOK here