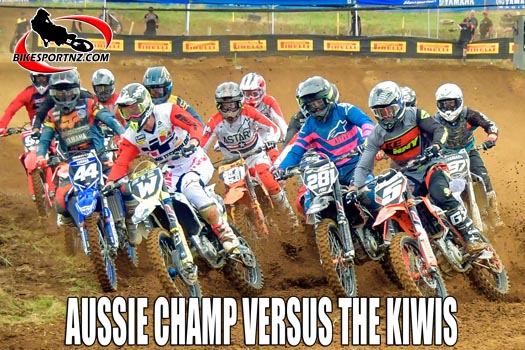 The fighting was especially intense in the MX2 class at round one of the 2019 Fox New Zealand Motocross Champs in Taranaki at the weekend.
New Zealand MX2 champion Hamish Harwood had his work cut out fending off the assaults from Australian MX2 champion Wilson Todd and from Kiwi rising star Maximus Purvis too.
There wasn't much between these riders, with the chasing bunch led by Taupo's Brad Groombridge, the MX2 No.2 from last season, Oamaru's Joel Meikle and Taupo's Wyatt Chase.
Fast Turkey Video produced several items for BikesportNZ.com from the weekend's racing at the Barrett Road Motocross Park, on the outskirts of New Plymouth.
Here is the MX2 class highlights package. We will have the MX1 class video for you shortly.
The 2019 Fox New Zealand MX Championships calendar:
Round 1 – Sunday, February 3 – Taranaki
Round 2 – Sunday, February 17 – Rotorua
Round 3 – Sunday, February 24 – Pukekohe
Round 4 – Sunday, March 10 – Taupo
© Videography by Darren Eagle
© Photo by Andy McGechan, BikesportNZ
Find BikesportNZ.com on FACEBOOK here