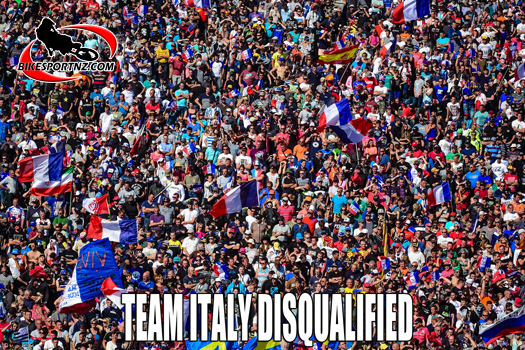 Team Italy has been retrospectively disqualified from the 2018 Motocross of Nations after illegal fuel was discovered in the bike of one of their riders.
This drops Italy from second overall to 30th and last in the classification.
The new top five is:
France
The Netherlands
Great Britain
Australia
United States
Team New Zealand is also therefore elevated one position to 17th overall.
During the 2018 Monster Energy FIM Motocross of Nations in Red Bud (United States) on October 6-7, 2018, fuel samples were taken to be tested in accordance with the 2018-1 FIM Technical Rules Motocross (Art.63.04 and 63.05).
The following motorcycles were tested:
Mr BARCIA #27 (United States)
Mr VAN HOREBEEK #12 (Belgium)
Mr CERVELLIN #20 (Italy)
Mr TOMAC #25 (United States)
Mr TIXIER #3 (France)
Mr PLESSINGER #26 (United States)
Mr LAWRENCE #17 (Australia)
Mr CAIROLI #19 (Italy)
Among the aforementioned riders, the fuel tests of No.20 Michele CERVELLIN attested non conformity with the FIM fuel specifications provided for in Art. 63.01.2 of the 2018-1 FIM Technical Rules Motocross, regarding the properties for unleaded fuel.
On this basis, the FIM Race Direction of the above-mentioned 2018 Monster Energy FIM Motocross of Nations has decided to impose upon Mr CERVELLIN's team (team Italy) a disqualification from the entire event, in accordance with Art. 63.05.13 of the 2018-1 Technical Rules Motocross.
No appeal against the decision of the FIM Race Direction has been lodged before the International Disciplinary Court (CDI) within the set deadline.
As a consequence, the decision of the Race Direction is final.
© Photo by Andy McGechan, BikesportNZ
Find BikesportNZ.com on FACEBOOK here