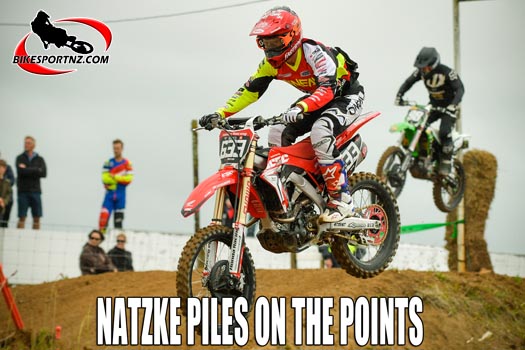 Bay of Plenty's Josiah Natzke arrived at Tokoroa on Saturday afternoon with a two-point advantage over his nearest rival and he left that night with the buffer blown out to a massive 15 points.
The Honda rider from Mount Maunganui wasted no time in piling on the hurt at this second round of three for the SX2 (250cc) class in the New Zealand Supercross Championships at Tokoroa.
With backing from Auckland company Cannon Signage Concepts and Blue Wing Honda, Natzke had taken his Honda CRF250 to finish the night third overall in the SX2 class at the big international S-X Open Auckland at Mt Smart Stadium the previous weekend, that event registering also as round one of the New Zealand championships for this class only.
Natzke had been the best-performed of the Kiwi riders at Mt Smart Stadium and so he therefore arrived at Tokoroa on Saturday with 17 points already in the bank, while Waitakere's Ethan Martens turned up with 15 points to his credit, Te Puke's Logan Blackburn had 13 points already, Taupo's Brad Groombridge had 11 and Dunedin's Madison Latta had 10 points safely in his pocket.
But Natzke's three wins from three starts at Tokoroa then pushed his advantage out from three points to 15 points over Martens, who managed 3-3-2 at Tokoroa, while Mangakino's Maximus Purvis captured the third podium position with a 4-2-3 score-card on Saturday night.
"I holeshot all the races here at Tokoroa. The only hard race I had was when Maximus (Purvis) was right behind me in the second one, but I got a gap at the start and then just controlled it from there," said the 19-year-old Natzke.
"This track (at Tokoroa) was a lot different from Auckland (Mt Smart Stadium, with a crowd of 21,000) and a lot more tame because this is just New Zealand supercross, not really international scale. It was a lot more fun and more low-key here.
"I got more time on the track at Tokoroa, so it was a lot more relaxed. The previous weekend was so intense.
"I'm loving the Honda. I have literally just jumped on it … it's (sponsor) Cannon Smith's son's bike and I have not raced for ages, not in about two months before Mt Smart last weekend, so the suspension has not even been tuned for my personal settings.
"So I had not ridden for two months and then just once last week, before turning up here. I wasn't planning on riding while at home (from Germany) for the European off-season, but the offer came along from Cannon and it was too good to say no.
"I'm going back to Germany at the end of January, so the New Zealand Supercross Champs will be the only racing I'm now doing at home this season."
Another three of the other five championship classes were also dominated by just one rider at Tokoroa on Saturday night, with Oropi's Ben Townley cleaning up the SX1 (open) class, Ohaupo's Carlin Hedley unbeaten in the SX Lites (senior 125cc) class and Rangiora's Korban Paget untouchable in the Junior 250 class.
Hamilton's Nicholas Westgate won the Junior Lites class, sharing top points with his brother Dylan Westgate but earning the overall honours thanks to the count-back rule.
The supercross nationals will wrap up at Winton, near Invercargill, in two weeks' time (on December 15).
LEADING STANDINGS:
Leading standings after round one of the New Zealand Supercross Championships (round two for the SX2 class) in Tokoroa on Saturday:
SX1 class: 1. Ben Townley (Oropi) 60 points; 2. Cohen Chase (Taupo) 49; 3. Reece Walker (Nelson) 47.
SX2 class: 1. Josiah Natzke (Mount Maunganui) 77 points; 2. Ethan Martens (Waitakere) 62; 3. Maximus Purvis (Mangakino) 54.
SX Lites: 1. Carlin Hedley (Ohaupo) 60 points; 2. Nate Adams (Waiuku) 47; 3. Brock Sullivan (Upper Hutt) 45.
Junior 250: 1. Korban Paget (Rangiora) 60 points; 2. Connor Newell (Winton) 49; 3. Curtis King (New Plymouth) 43.
Junior Lites: 1. Nicholas Westgate (Hamilton) 49 points; 2. Dylan Westgate (Hamilton) 49; 3. Rhys Jillings (Rongotea) 45.
© Words and photo by Andy McGechan, BikesportNZ
Find BikesportNZ.com on FACEBOOK here