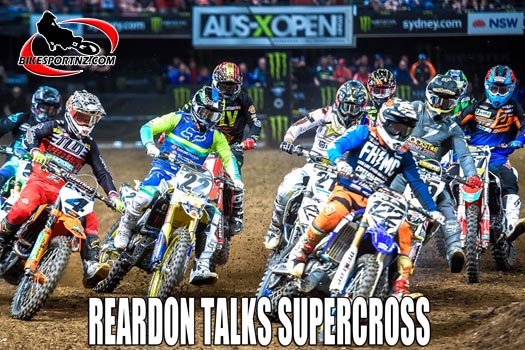 Australian Dan Reardon is one of the high profile riders who is expected to light up the night sky over Mt Smart Stadium at the S-X Open Auckland tonight.
He wrapped up third overall at the Australian Supercross Championships final round in Sydney two weekends ago that event also doubled as round one of the Monster Energy S-X Open International FIM Supercross Oceania Championship.
The second and final round of the Oceania championship is set for Auckland's Mt Smart Stadium tonight and Reardon will fancy his chances of moving up from his current spot of third in that separate competition.
Here's what he had to say for himself …
"Coming in (to the Australian series) and creating a team per se definitely was a lot of work – all of which I really enjoyed and loved – but I'd be lying if I said it didn't take up a lot of my time. The commercial side of things is really the interesting part, as each sponsor that came on board needed tailored exposure for how much they were putting in, you know? So that was a lot of fun, but also a big challenge. It's much more than just sourcing a rider, bikes, parts, mechanic and all of that kind of thing. Overall it was a lot of fun."
Do you think the avenue that you went down this year is kind of the way of the future? I mean, you've always been that way inclined, but you're also a 3 x Australian Supercross Champion. Is this something that you think a young SX2 rider could pull off?
"I really do in all honesty, because yeah I'm a three-time champion, but when I begin discussions with a potential sponsor, I'm selling the sport to begin with. That's the biggest thing, and then the championships and relevancy of myself comes into play way later, like almost something you discuss around a barbeque," he laughed.
"The main thing for these guys is to make themselves marketable – that's honestly such a big component. Results are important, and I don't want to understate that, but being marketable really just helps you stand out to a sponsor in so many ways. Being punctual and comfortable with being in a room full of people is such a key piece to the puzzle, so if I could recommend anything, it'd be that. Then when you do that, you really take control of yourself and how much you make – which is important because whilst I love riding and I'd do it regardless, it is a dangerous job. So rather than letting a team dictate your gear deal or things like that, in my mind it's better to do it yourself."
Moving onto NZ, you currently sit just two points off Dean (Wilson) in the new Monster Energy S-X Open International Supercross FIM Oceania Championship. Are you excited to head down there and battle for this championship?
"100%. I'm stoked to be heading down there and battling with the caliber of riders who're competing in this championship and heading down there too. Having guys like Dean, Chad (Reed) and all those guys really makes me elevate my game, which is what we saw in Sydney, so to be battling with them is really exciting. To see supercross expand now internationally is awesome too, so I can't wait to continue to see it grow."
Lastly, you've been a part of supercross and the sport for a very long time now – really since '05. You've seen the sports ups and downs, experience good times and bad – so from your perspective, where do you see supercross right now? Do you believe it to be in a good place going forwards?
"Like you said, I've been a part of the sport for a long time now, and have seen it come, then go for a couple years, and then come back. Right now I really do believe it's in a really good place, and the talk of the pits is that everyone wants more – which would be awesome. Obviously more races means more exposure, more money and just overall a bigger spectacle, which I'm a firm believer it's capable of. The expansion really is important for the younger guys coming through too, because you've seen a big drop in Australian riders heading overseas and being successful to the likes of Reed, Metty, Byrner and all those guys. For me growing up, there were way more supercross races back in the day, which helped immensely.
"Overall now I do see it going in a great direction, and in all honesty I'm nervous that it'll hit its peak, or where it should be, and I'll be too old to compete (laughs). But no, I think it's heading in a good direction."
Words and photo courtesy sxopen.com
Find BikesportNZ.com on FACEBOOK here