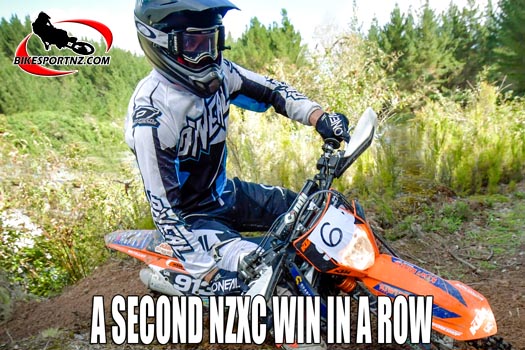 There seems to be no stopping Auckland's Sam Greenslade, the 28-year-old cross-country ace notching up yet another win on one of his KTM bikes at the weekend.
Coatesville's Greenslade took his KTM 350SX-F to win the fourth round of six in the popular NZXC cross-country series at Matata, near Whakatane, on Saturday, finishing the two-hour dirt bike marathon a solid 10 seconds ahead of series leader Callan May.
This was the second consecutive occasion that Greenslade had eclipsed Yamaha's May for top honours after Greenslade had also beaten May to the chequered flag at round three of the NZXC Series in the Woodhill Forest, west of Auckland, in September.
Those two wins have elevated him now to second overall in the NZXC Series standings, despite his managing only seventh at the series opener in Tokoroa in July – that being only his first ride after being sidelined with knee injury – and then skipping round two of the NZXC "for family reasons".
It means he has a steep hill to climb to overcome May's points advantage but that's not really a concern for Greenslade because he has bigger fish to fry.
"I am only really using the NZXC Series as part of my build-up for the enduro and cross-country nationals coming up," he said.
He made hard work for himself too on Saturday, crashing his bike on the opening lap of what would become a six-lap affair.
"It was muddy and slippery and I went down hard and dropped back a fair way (in the 82-rider field), but I managed to get back to second position on lap two and then took the lead.
"Then I had to come into the pits for fuel because I only had a smaller motocross tank fitted on the bike and this allowed Callan (May) to take advantage and grab the lead back from me.
"During lap four I caught up again to Callan and made the pass on him, but then I had to pit again for fuel. He had a bigger tank than me and didn't need so many stops.
"It was wheel-to-wheel racing over the final lap, but I got the job done in the end."
Finishing behind Greenslade and May, in third place overall, was another KTM rider, Helensville's Tom Buxton, with Rotorua's Callum Dudson (Honda) and Whanganui's Seth Reardon (Yamaha) rounding out the top five.
It has been a glorious run of wins for Greenslade in recent weeks.
Greenslade had teamed with Buxton to share riding duties and win the annual Pirini 400 four-hour motorcycle endurance race near Te Puke two weeks previously, further emphasising the incredible form that KTM riders Greenslade and Buxton are in at the moment.
Saturday's race doubled also as round one of the New Zealand GNCC series and the weekend's win obviously gives him the early advantage in that separate three-round competition.
Greenslade will be looking to continue his current winning form at round five of the NZXC series (which is also round two of the GNCC) in the Woodhill Forest on November 10.
© Words and photo by Andy McGechan, BikesportNZ
Find BikesportNZ.com on FACEBOOK here