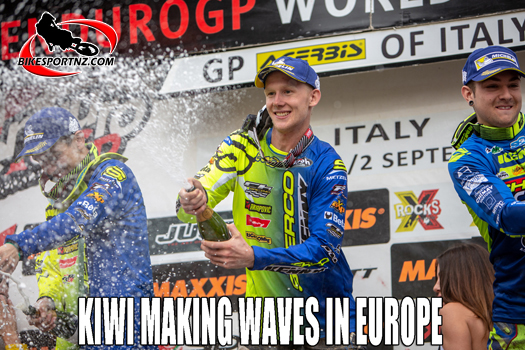 He had only really intended to dip his toes in the waters, but Canterbury motorcycle ace Hamish Macdonald has instead made enormous waves all across Europe.
He's rapidly shown he's no minnow after all and it's perhaps now more accurate to describe him as a big fish on the world scene.
The 19-year-old from Christchurch arrived in Europe at the start of the 2018 FIM Enduro GP World Championships season with the idea that he would simply "see where I was at with my enduro riding".
A leading competitor at the top of the national enduro scene at home, Macdonald had already proven himself an accomplished rider in New Zealand, but the step up from domestic to GP-level racing is a huge one indeed, or so most people would think.
"Spain was a big learning curve," said Macdonald. "It wasn't what I expected, certainly not like a normal enduro back home."
At the double-header rounds one and two of the FIM Enduro GP World Championships in Spain in April, Macdonald put his 125cc Sherco bike near the front in the Youth Cup 125 Class, finishing runner-up in the GP event's preliminaries, the prologue stage.
He then went on to finish the weekend third overall and his international enduro career was up and running.
Encouraged by his form, a decision was made that he push on with the world series and he prepared to tackle the double-header rounds three and four in Estonia in June.
He managed a podium finish on day two of the event (2nd) and finished that weekend fourth overall.
"Estonia was awesome. I struggled a lot on the first day, with some big mistakes, but I knew my speed was there and it showed on the second day."
At round five in Italy, also in June, the Kiwi was forced to battle with injury after a crash and he settled for sixth overall, but at least he was able to remain in touch with the championship leaders.
Then came the double header rounds six and seven at Edolo in Italy just last weekend and now it was really time for the Canterbury racer to shine.
Macdonald won both days outright, his 1-1 score-card easily ensuring he would claim the No.1 step on the podium at that event, the first time since Tauranga's Stefan Merriman in 2008 that a New Zealand rider has topped the world enduro scene.
The slick and slippery conditions at Edolo played right into Macdonald's hands and he commented that it was "just like home".
The next two rounds (eight and nine) are set for Méthamis, in France, on September 22-23, with the final race venue at Ruderdorf, in Germany, from October 12-14.
Macdonald is expected to return to New Zealand in October and, currently second overall in the Youth Cup series standings and just six points behind Chile's Ruy Barbosa, with the three worst scores of each rider still to be dropped in the final Youth Cup calculations.
So, by the middle of next month, the Kiwi hero could be world champion … at his first attempt no less.
Macdonald is supported by Sherco, Pure Sports Nutrition, Selwyn Strength, Full Spectrum Group, Alpinestars, thisisamped and Progrip.
© Words by Andy McGechan, BikesportNZ
Photos by Tristan Young
Find BikesportNZ.com on FACEBOOK here