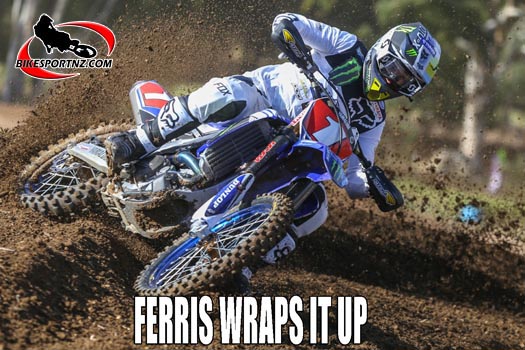 Kyogle's Dean Ferris has successfully defended his national MX1 title in Australia with yet another slick display at the weekend.
He secured the MX1 crown with a round to spare as he dominated at the ninth round of 10 in the 2018 Australian Motocross Championships at Gladstone, Queensland.
The CDR Yamaha Monster Energy Team rider wrapped up the 2018 championship with a moto one victory, but still didn't rest on his laurels in the second race as he chalked up another perfect 1-1 result from the day's two races. Penrite Honda Racing's Brett Metcalfe finished the day second overall and Davey Motorsports Husqvarna rookie Caleb Ward filled the day's 450cc podium.
Despite carrying a 106-point lead into Gladstone, Ferris proved from the outset he meant business. He topped the qualifying sheets, then quickly took command of the opening race, eventually leading a hard-charging Metcalfe across the line by 3.2s and wrapping up the championship with three races in hand. Raceline Pirelli KTM's Mitch Evans finished a comfortable third, followed by Ward and Ferris' CDR Yamaha Monster Energy Team comrade Dylan Long.
In the second Thor MX1 outing, Ferris continued to pour salt on the wounds of his rivals by grabbing the holeshot and leading wire-to-wire, with Ward a career-best second at his home race. Metcalfe crossed the line in a lonely third, followed by Evans (who initially finished second, but was penalised two positions for passing under a yellow flag) and Long in fifth.
Meanwhile, New Zealand's Rhys Carter finished 18th overall on the day, a disappointing result for the Complete Parts Kawasaki Racing Team rider from Mount Maunganui, although he is still inside the top 10 for the championship overall.
He qualified ninth fastest and then finished sixth in the day's first MX1 race, before failing to finish moto two and he is now seventh overall for the championship with one round remaining.
In the MX2 class, New Zealand's Hamish Harwood (Davey Motorsports & CML KTM Racing Team) qualified fifth fastest and finished the weekend second overall, just one point behind Yamaha's Jay Wilson.
Harwood won moto one and then settled for fifth in moto two, while Wilson lodged a 3-2 score-card for the weekend. Harwood is still third in the MX2 overall championship standings.
In the Motocross Development (under-19) class, Kiwi rider Maximus Purvis (Altherm JCR Yamaha Racing Team) qualified 13th fastest.
Purvis finished 6-8 in his two races, good for seventh overall for the weekend, the class being dominated on Sunday by an unbeaten Bailey Malkiewicz (Yamaha).
Malkiewicz leads the MXD class standings, while Purvis is still fourth overall.
Photo courtesy MXNATIONALS
Find BikesportNZ.com on FACEBOOK here
RESULTS & STANDINGS:
MX1 Round 9 Overall Results
Dean Ferris – 70 Pts
Mitch Evans – 62Pts
Brett Metcalfe – 60Pts
Caleb Ward – 58Pts
Dylan Long – 52Pts
Luke Clout – 48Pts
Callum Norton – 48Pts
Zak Small – 45Pts
Joben Baldwin – 42Pts
Charlie Creech – 40Pts
MX1 Championship Standings After Round 9 of 10:
Dean Ferris – 629 Pts (2018 Champion)
Mitch Evans – 507 Pts
Luke Clout – 498 Pts
Dylan Long – 454 Pts
Brett Metcalfe – 454 Pts
Caleb Ward – 444 Pts
Rhys Carter – 417 Pts
Joel Wightman – 337 Pts
Kade Mosig – 321 Pts
Zak Small – 311 Pts
MX1 Moto 1 Results
Dean Ferris
Brett Metcalfe
Mitch Evans
Caleb Ward
Dylan Long
Rhys Carter
Callum Norton
Luke Clout
Zak Small
Joben Baldwin
MX1 Moto 2 Results:
Dean Ferris
Mitch Evans
Caleb Ward
Brett Metcalfe
Dylan Long
Luke Clout
Callum Norton
Zak Small
Corey James
Joben Baldwin
MX2 Round 9 Overall Results
Jay Wilson – 62 Pts
Hamish Harwood – 61 Pts
Wilson Todd – 60 Pts
Aaron Tanti – 60 Pts
Richie Evans – 53 Pts
Cody Dyce – 46 Pts
Jy Roberts – 45 Pts
Jayden Rykers – 43 Pts
Kyle Webster – 42 Pts
Ricky Latimer – 42 Pts
MX2 Championship Standings After Round 9 of 10:
Wilson Todd – 558 Pts
Aaron Tanti – 501 Pts
Hamish Harwood – 498 Pts
Dylan Wills – 457 Pts
Jay Wilson – 452 Pts
Jy Roberts – 390 Pts
Kale Makeham – 380 Pts
Kyle Webster – 369 Pts
Cody Dyce – 313 Pts
Egan Mastin – 308 Pts
MX2 Moto 1 Results:
Hamish Harwood
Aaron Tanti
Jay Wilson
Richie Evans
Dylan Wills
Wilson Todd
Jy Roberts
Ricky Latimer
Cody Dyce
Jayden Rykers
MX2 Moto 2 Results:
Wilson Todd
Jay Wilson
Kyle Webster
Aaron Tanti
Hamish Harwood
Richie Evans
Cody Dyce
Kale Makeham
Jayden Rykers
Jy Roberts
MXD Round 9 Overall Results
Bailey Malkiewicz – 70 Pts
Jayce Cosford – 58 Pts
Riley Dukes – 57 Pts
Rhys Budd – 54 Pts
John Bova – 54 Pts
Hugh McKay – 51 Pts
Maximus Purvis – 48 Pts
Brodie Ellis – 48 Pts
Liam Walsh – 42 Pts
Mason Rowe – 42 Pts
MXD Championship Standings After Round 9 of 10:
Bailey Malkiewicz – 458 Pts
Hugh McKay – 453 Pts
Riley Dukes – 444 Pts
Maximus Purvis – 440 Pts
Brodie Ellis – 411 Pts
Rhys Budd – 376 Pts
Jye Dickson – 351 Pts
Morgan Fogarty – 348 Pts
Mason Rowe – 341 Pts
Jake Williams – 294 Pts
Motul MXD Moto 1 Results:
Bailey Malkiewicz
Riley Dukes
Jayce Cosford
John Bova
Brodie Ellis
Maximus Purvis
Rhys Budd
Mason Rowe
Dylan Wood
Liam Walsh
Motul MXD Moto 2 Results:
Bailey Malkiewicz
Hugh McKay
Rhys Budd
Jayce Cosford
John Bova
Riley Dukes
Mat Fabry
Maximus Purvis
Brodie Ellis
Liam Walsh
Yamaha 125cc Juniors Round Results
Levi Rogers – 67 Pts
Blake Fox – 65 Pts
Corben Weinert – 58 Pts
Alex Larwood – 53 Pts
Ricky Chalmers – 52 Pts
Luke Bray – 49 Pts
Sam Brims – 47 Pts
Regan Duffy – 32 Pts
Yamaha 125cc Juniors Championship Standings
Regan Duffy – 140 Pts
Blake Fox – 117 Pts
Liam Andrews – 116 Pts
Korey McMahon – 106 Pts
Corben Weinert – 89 Pts
Riley Findlay – 89 Pts
Noah Ferguson – 88 Pts
Zack Wright – 85 Pts
Levi Rogers – 83 Pts
Jai Walker – 82 Pts