NEW CONTEST WAS AN INSPIRATION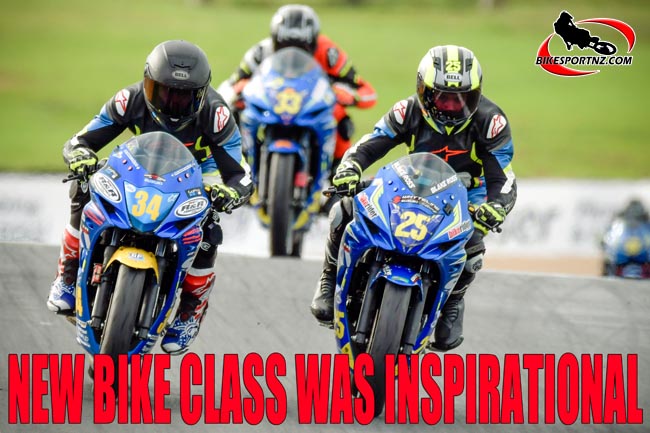 A simple stroke of genius could probably be the best words to describe Suzuki's inaugural GIXXER Cup competition this season.
It was such a success that perhaps, in the near future, we can expect to hear names like Newton, Ross, Fountain, Walker and Fuller uttered with the same reverence as multi-champion senior stars such as, for example, Tony Rees, Sloan Frost, Andrew Stroud, Dennis Charlett or Chris Haldane.
Introduced this season as a brand new class of racing, designed especially to encourage young riders to explore the possibilities of motorcycle road-racing, the seven-round GIXXER Cup competition was an inspirational breath of fresh air.
All riders in the new class were mounted on identical Suzuki GSX150F bikes, entry was restricted to riders aged between 14 and 21 years, and, with no modifications allowed to the bikes, racing was guaranteed to be close and exciting.
And it was, with seven different race winners this season.
The production racing class – with the tagline "Growing Future Champions" – was created to provide a springboard for young riders, hopefully to propel them towards a successful racing future at higher levels.
This year's introductory series kicked off at the three-round pre-nationals Suzuki Series in December and continued on throughout the four-round 2018 New Zealand Superbike Championships – starting in Christchurch in January, with rounds following at Timaru, Hampton Downs and, finally, in Taupo in March.
The seventh and final round at Taupo's Bruce McLaren Motorsport Park produced more of the same thrill-a-minute cut-and-thrust action that had introduced the competition at round one 14 weeks earlier.
Riders were to discard their one worst-scoring round of the series, this also helping to ensure a nail-biting finish, and so it proved at Taupo, with the main trophy still undecided as riders lined up for the 17th and final GIXXER Cup race late on Sunday afternoon.
There was virtually nothing to separate the leading riders on the points table, just as there was on the race track itself, and the chopping and changing of positions, should-rubbing and handlebar-banging happened right up until the final lap.
Pukekohe shop fitter Thomas Newton eventually won the GIXXER Cup title, finishing ahead of Paeroa's Blake Ross and "The West Coast Warrior", Greymouth's Clark Fountain, although any number of riders could possibly have taken a final podium spot, including Whanganui's Tarbon Walker and Taupiri's Zak Fuller.
The recently-turned 21-year-old Newton "did a bit of motocross" when he was younger, but this season was his first time on a road-race circuit.
"I have been riding bikes on the road for a couple of years, but not racing them," he explained.
"It was really close racing and must have been one of the best classes for spectators to watch. I have made a lot of new friends in this class and in the rest of the paddock. It has been awesome.
"I hope to race in the Supersport 300 class next season, but we'll have to see about sponsorship and all that kind of thing first."
With the fledgling racers all on matching bikes, the racing was intense throughout, a level playing field being an ideal environment for the stars of tomorrow to learn their craft and spread their wings.
Several of the GIXXER Cup stars this season have now be motivated and inspired to continue on with the sport, already making plans to enter one or another of the bigger bike classes next season, while others have vowed to give the GIXXER Cup another crack in 2018-19.
Leading final standings in the inaugural GIXXER Cup:
1. Thomas Newton (Pukekohe) 287 points; 2. Blake Ross (Paeroa) 272; 3. Clark Fountain (Greymouth) 229; 4. Tarbon Walker (Whanganui) 211; 5. Zak Fuller (Taupiri) 206; 6. Harry Parker (Timaru) 173; 7. Michael Wilson (Invercargill) 172; 8. Scott Hawkes (Feilding) 135; 9. Matt Brough (Paraparaumu) 134; 10. Cameron Goldfinch (Whanganui) 98.
© Words and photos by Andy McGechan, www.BikesportNZ.com
Find BikesportNZ.com on FACEBOOK here