FERRIS STAMPS HIS AUTHORITY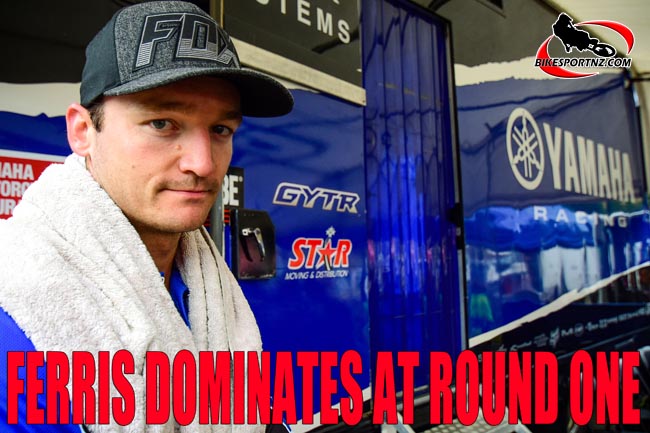 Two-time defending Australian MX1 champion Dean Ferris started 2018 the same way he finished last year's Australian nationals, by winning both 30-minute races at the opening round in Newry, in Victoria, at the weekend.
The CDR Yamaha Monster Energy Team rider (pictured above) opened his championship account balance with a perfect 70 points, winning ahead of his long-time rival, Kirk Gibbs (KTM Motocross Racing Team). Taking the third step on the MX1 podium for the opening round was a young premier class rookie, Raceline Pirelli KTM's Mitch Evans.
In the opening race, Ferris and 2018 New Zealand MX1 champion Gibbs traded blows early on before Ferris gained the ascendency and crossed the line with a three-second buffer over Gibbs, followed by Kade Mosig (DPH Motorsport Husqvarna), Brett Metcalfe (Penrite Honda Racing) and Evans.
The second race saw Ferris make one pass on the opening lap before stretching out a seven-second lead over Gibbs and Evans, with Luke Clout (KTM Motocross Racing Team) and Caleb Ward (Davey Motorsports Husqvarna) rounding out the top five.
New Zealander Rhys Carter (Kawasaki) finished 7-7 on the day, good for seventh overall, while fellow Kiwi Kayne Lamont (Yamaha) chimed in with 8-15 score-card, good for 11th overall for the event.
MX2 CLASS
The new-look Complete Parts Kawasaki Racing team has recorded a round win on its maiden outing, with NSW's Aaron Tanti taking a hard-fought overall victory in the Pirelli MX2 class. Serco Yamaha's new signing Nathan Crawford, and Davey Motorsports and CML KTM's New Zealand MX2 champion Hamish Harwood rounded out the podium.
In the opening moto Harwood took over the early lead, but was reeled in by Crawford midway through. Tanti, who claimed the hole-shot but fell soon afterwards, rode strong to third, ahead of a hard-charging Richie Evans (Yamalube Yamaha Racing) and defending champion Egan Mastin (KTM Motocross Racing Team).
In the second race Tanti grabbed another strong start and was never headed, while Kyle Webster (Penrite Pirelli CRF Honda Racing) and Wilson Todd (Serco Yamaha) rounded out the top three. Crawford and Harwood finished fourth and fifth respectively.
MXD CLASS
In the Motocross Development (Under-19) class, New Zealand's Maximus Purvis (Yamaha) finished 9-13 in his two races, placing him ninth overall after this opening round.
KTM rider Hugh McKay (with 4-2 results), Riley Dukes (Husqvarna, 3-3) and Callum Norton (Honda, 2-4) share the lead in the MXD class, each on 60 points, all just one point ahead of Bailey Malkiewicz (Yamaha), who finished 7-1 on Sunday.
Results
MX1 class:
Dean Ferris (Yamaha) 70
Kirk Gibbs (KTM) 64
Mitch Evans (KTM) 56
Kade Mosig (Husqvarna) 53
Caleb Ward (Husqvarna) 51
Luke Clout (KTM) 50
Rhys Carter (New Zealand, Kawasaki) 48
Dylan Long (Yamaha) 46
Connor Tierney (Yamaha) 42
Joel Wightman (Honda) 40
MX2 class:
Aaron Tanti (Kawasaki) 65
Nathan Crawford (Yamaha) 63
Hamish Harwood (New Zealand, KTM) 58
Kyle Webster (Honda) 53
Richie Evans (Yamaha) 53
Wilson Todd (Yamaha) 52
Jackson Richardson (Honda) 48
Jay Wilson (Yamaha) 46
Egan Mastin (KTM) 46
Dylan Wills (Husqvarna) 39
The 2018 Pirelli MX Nationals now head to round two at Appin, in New South Wales, on Sunday, April 29.
© Photo by Andy McGechan, www.BikesportNZ.com
Find BikesportNZ.com on FACEBOOK here
2018 Australian MX nationals calendar:
Round 1 Newry VIC, Sunday April 15
Round 2 Appin NSW, Sunday April 29
Round 3 Wonthaggi VIC, Saturday May 19
Round 4 Wonthaggi VIC, Sunday May 20
Round 5 Murray Bridge SA, Sunday May 27
Round 6 Conondale QLD, Sunday July 1
Round 7 Maitland NSW, Saturday July 14
Round 8 Maitland NSW, Sunday July 15
Round 9 Gladstone QLD, Sunday August 5
Round 10 Coolum QLD, Saturday & Sunday, August 11-12