SUZUKI SERIES SET FOR BLAST-OFF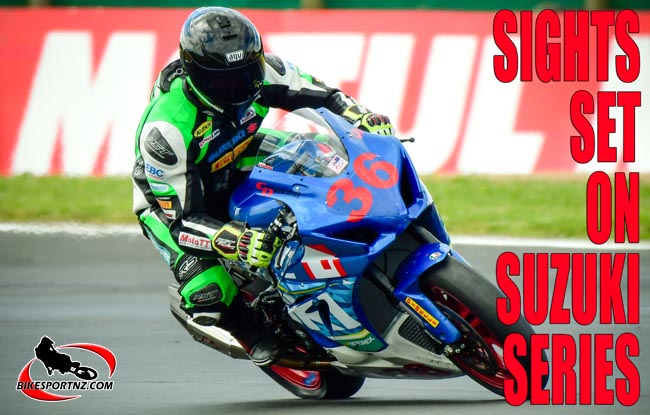 Taupo's Scotty Moir would love nothing better than to win this year's Suzuki Series and he won't have long to wait before he'll find out if it's at all possible to at least steal the march on his rivals in this popular New Zealand road-racing competition.
The annual Suzuki Tri Series kicks off the New Zealand road-race season this weekend, right on the Taupo hero's doorstep, at Bruce McLaren Motorsport Park, just a few kilometres away from his home town.
And so the chances of the Suzuki man kicking the competition off with a win have perhaps never been better. Moir has come close to winning this series over the past few years, although he's never quite made it to the top step of the podium. His recent form hints that this might be about to change.
Moir was one of the winning trio at the Motul Six-Hour endurance race at Hampton Downs last month and it will possibly be his team-mates from that day – Wellington's Sloan Frost and Glen Eden's Daniel Mettam – who will be among his greatest threats at Taupo on Sunday (December 10).
Whakatane's Tony Rees (Honda) won the Suzuki Series last year and he'll no doubt also be among Moir's chief rivals this time around.
All of these riders will want to make a good impression on Sunday, to set themselves up for the rest of the Suzuki Series and for the four-round nationals that follow in January and March.
After Taupo, the Suzuki Series takes the riders to Manfeild, on the outskirts of Feilding, for round two on December 17, before its traditional Boxing Day finale on Whanganui's famous public street Cemetery Circuit.
The series this year will have an added attraction too, with the newly-created GIXXER Cup class added to the race programme.
The class is reserved for the 150cc Suzuki GSX150F model bikes, although the small size belies their huge potential to impress.
There will be at least 20 riders on the starting grid in the GIXXER Cup class, with entries received from as far afield as Greymouth, Timaru and Auckland and with Hamilton's Jesse Stroud the latest young man to sign up.
The Stroud name is synonymous with motorcycle road racing in New Zealand, with his father, Andrew Stroud, a record nine-time former national superbike champion. The Stroud dynasty is now being carried by a new generation that include Jesse and his elder brother Jacob Stroud.
Siblings Jesse and Jacob have already begun to make waves on the national road-racing scene, with Jesse continuing the long-standing Stroud family association with New Zealand's popular Suzuki brand.
The Suzuki Series should attract a lot of interest in the GIXXER Cup, where young riders will go into battle on identical GSX150F machines.
With the fledgling racers on matching bikes, the racing is certain to be intense, a level playing field being an ideal environment for the stars of tomorrow to learn their craft and spread their wings.
GIXXER Cup riders across the country have already been out at various track days and training sessions around the country, gaining valuable bike time and experience with their machines.
Several top Kiwi riders from the past and present have offered their advice and coaching to the young GIXXER Cup riders, including Brian Bernard, Gary Stirling and Jared Love.
There are still several GSX150F bikes that have not yet been allocated to riders, each of them fully prepared and ready to go, so there is still a good opportunity for potential competitors to come on board and enter the competition.
Reserved for riders aged between 14 and 21, the GIXXER Cup – with the tagline "Growing Future Champions" – is a production racing class that will provide a springboard towards a successful racing future at higher levels.
While the GIXXER Cup grade of competition will also be a feature of the four-round 2018 New Zealand Superbike Championships, beginning at Mike Pero Motorsport Park, Christchurch, on January 6-7, with rounds to follow at Timaru, Hampton Downs and Taupo.
Meanwhile, Wellington's Victoria Motorcycle Club is evaluating a winter series class for the GIXXERS, to provide a further opportunity for these riders to keep their competitive spirits alive during what is usually the "off season" for New Zealand road racing.
© Words by Andy McGechan, www.BikesportNZ.com
Find BikesportNZ.com on FACEBOOK here