Manawatu's Paul Whibley led a Yamaha 1-2-3-4 at the front of the pack at the opening rounds of the combined Dirt Guide and NZXC Cross-country Series near Tokoroa on Sunday.
The 38-year-old former US Grand National Cross-country (GNCC) champion and former New Zealand cross-country champion not only won the senior two-hour race in comprehensive style, but he also did it on one of the smallest and oldest bikes in the 100-plus rider field.
The Taikorea dirt park operator and rider fitness coach pulled his four-year-old Yamaha YZ125 out of the back of his shed "just to give it an airing" as he tackled the two-events-in-one Dirt Guide and NZXC Series opening rounds at Ohakuri, on forestry land about halfway between Tokoroa and Taupo.
The 2013-model 125cc motocross bike proved to be more than capable of matching the 300cc and 450cc bikes raced by many of the pre-race favourite and, in fact, Whibley grabbed the holeshot soon after the shotgun blast signalled the start.
"I somehow managed to get the holeshot on a 125cc bike and led the race from the start," said Whibley, who was clearly surprised by that.
The former Manawatu forestry worker, affectionately dubbed "The Axeman" on the motorcycling scene, had no problem slicing through the trees and, although he had Coatesville's defending Dirt Guide Series champion Sam Greenslade for close company on the first of the 18-kilometre laps, he had broken clear of him halfway through lap two.
"My goggles got fogged up and so I chucked them away and rode the second half of the lap without goggles. Sam had dropped off from behind me and I don't know what happened to him, then I came in for a refuel and fresh goggles after two laps."
Whibley was the only rider required to complete five laps after he arrived at the timing zone with time still left on the two-hour clock, and eventual runner-up was Auckland's Luke Mobberley (Yamaha YZ250), with Cambridge's Ashton Grey (Yamaha WR250F), Titirangi's Callan May (Yamaha YZ250F) and Hamilton's Chris Power (Honda CRF450) rounding out the top five.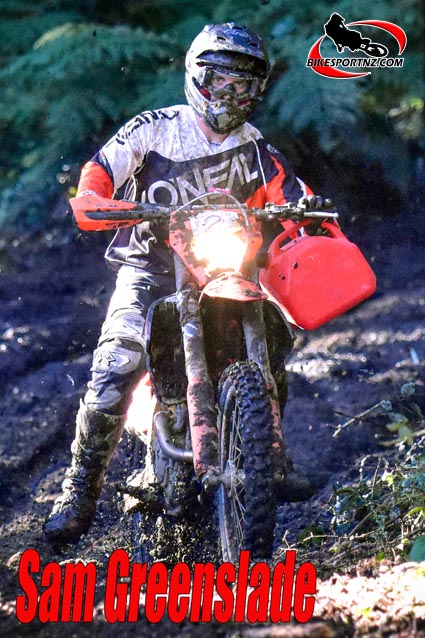 Greenslade (KTM EXC-F 250) had been in the runner-up position, but he ran out of fuel just one kilometre from the end of lap four.
"I bought the Yamaha YZ125 as a new bike in 2013, but it's had a hard time since then and done a few kilometres now," said Whibley afterwards. "It's been stored in the back of my shed, but I sometimes ride it at home. It's a fun bike to ride."
Whibley also raced a similar Yamaha YZ125 a couple of times his short recent stint in the United States earlier this year, tackling "just for fun" three GNCC races – in South Carolina, Florida and Georgia.
"I managed to finish third, then second and then third again (in the newly-created XC3 125cc class) at the GNCC races."
Whibley won't be racing in the US again this season, but he is currently ranked fifth in the XC3 standings there, despite him having raced just three of the five rounds thus far.
His focus is now back in New Zealand.
"I'm not sure I will be racing the rest of the NZXC series, " said Whibley, the competition a creation of his own, a series that he stresses was "not set up just for me to compete in and perhaps win", but he does hope to complete the three-round Dirt Guide series and he aims to win that.
"But the NZXC series is for others to enjoy. I cherry-pick from other parallel competitions and choose the best events to incorporate into the NZXC Series."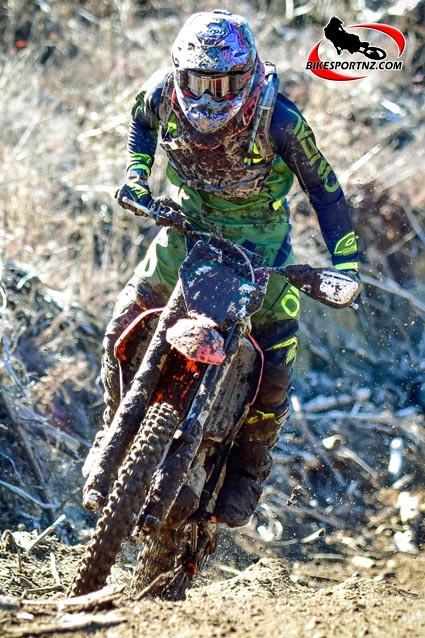 Meanwhile, Cambridge's Beau Taylor (KTM 200 XCW) won the 90-minute junior race staged earlier in the day, leading Auckland's Nick Wightman (Husqvarna TE125), Cambridge's Callum Paterson (Yamaha YZ125), Eltham's Adam Loveridge (Husqvarna TX125) and Havelock North's Tom Hislop (KTM 150 XC) across the finish line.
The second round of seven for the NZXC Series is due at Woodhill Forest, west of Auckland, on June 18, with the second round of the Dirt Guide Series set for Tar Hill, near Tokoroa, on June 25.
Whibley is supported by Yamaha Motor New Zealand, Arai, TCX, Oakley, G2, Asterisk, MotoSR, Vortex Ignitions, EC3D, Bush Riders MCC, Rossco's Start Up Services, Unabiker, Leatt Brace, Tire Balls, Renthal, Bikesportnz.com, CarbSport, KettleClamp, Alliance Offroad, Ride Eng MotoSeat, FMF, Michelin, Yamalube CV4  GYTR, IMS, Rekluse, Workshop Graphics, Silverbullet.co.nz and O'Neal.
© Words and photos by Andy McGechan, www.BikesportNZ.com
Find BikesportNZ.com on FACEBOOK here