The New Zealand motocross community has been saddened by news yesterday of the death of rising young star Trent Haywood.
The 14-year-old from Tauranga was competing at the big annual Michael Godfrey Memorial Motocross race on a farm at Waipara in north Canterbury.
The two-day event honours promising young motocross rider Michael Godfrey who lost his life in a car accident at the age of 16.
It is unclear what caused Haywood to lose control of his bike when he crashed on a 30-metre jump.
The teenager's father and friends were among more than 100 other spectators who saw what happened.
Police Sergeant Rob Irvine says the death is thought to be the first death in the event's 35-year history.
A police investigation is underway.
Haywood was at the top of his class and performing extremely well at the event.
He was leading the 14-16 years' 250cc class scoreboard at the time of the crash on Sunday morning. The event was abandoned immediately after the accident, out of respect for his passing away.
Haywood had finished 3-4-1 in his races before the tragedy.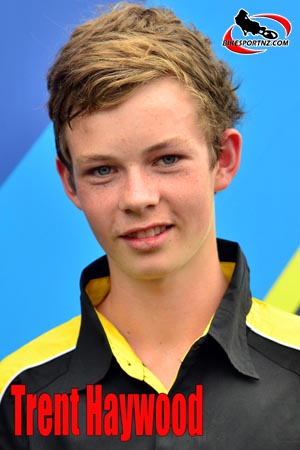 Suzuki team manager and personal friend Andrew Hardisty had this to say:
"Today we have lost one of life's great mates. Trent Haywood you are an amazing kid and it is a huge tragedy that you have been taken from us.
"Our thoughts are with your family and friends at this terrible time. Trent, where ever you are now, you hold the throttle wide open mate and keep that RM-Z humming. We are so proud of you as a friend, a talented motocross racer and someone who everyone holds huge respect for.
"Your smile, your cheeky nature and the way you do things is going to be so missed. Keep strong for Trent everyone, he would want us to keep it that way."
Meanwhile, Motorcycling New Zealand has extended its sympathies to the Haywood family.
MNZ president Jim Tuckerman said their thoughts were with the family. He says there were no other riders involved, and an investigation is now underway.
He said MNZ was firmly committed to the highest levels of safety within its sport.